19 March 2020
Ellis calls time on professional career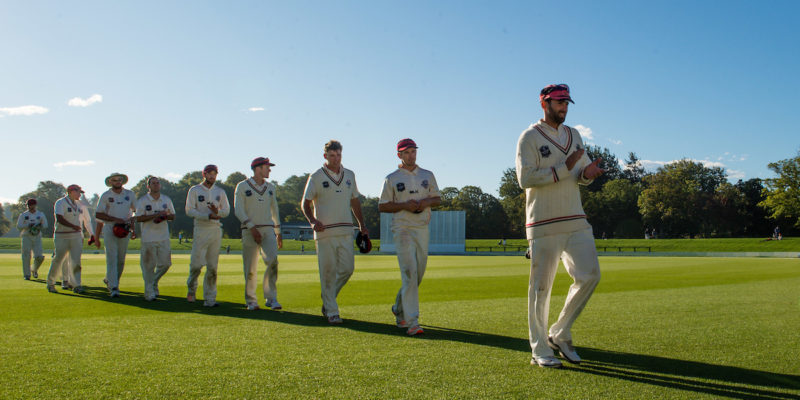 Andrew Ellis has announced his retirement from Canterbury Cricket after an 18 year professional career.
Ellis, 37, is the just the second player in New Zealand domestic cricket history to play over 100 games in each format. This included 117 T20 matches, 109 List A matches, and 105 First Class matches.
He also represented New Zealand, playing 15 ODIs and 5 T20 internationals between 2012-2013.
In the 2014/15 season, Ellis was the standout domestic performer in New Zealand, winning 'Men's Domestic Player of the Year' and just two years later in the 2016/17 season, was awarded the same honour, making him the only player ever to win the accolade twice. He was consistently amongst the best performers in the country for the best part of a decade. After back surgery in 2010 he was a fixture in the red and black across all formats, with his physical resilience ensuring missed games were few and far between.
The 2016/17 season was certainly one of Ellis' best, lifting the Plunket Shield in his first year as captain. This was to go alongside leading Canterbury's successful campaign in the Ford Trophy, breaking an 11-year drought. It was the first time a Canterbury team had done a first class and limited overs double since two decades prior in 1996/97.
A five-time Plunket Shield champion, Ellis finished his career for Canterbury with 8,644 runs and 494 wickets across all three formats, making him one of the best all-rounders to wear the red & black.
Canterbury captain Cole McConchie said Ellis would be missed from the playing group.
"Elly has been the heart and soul of the team for a long time. I remember coming into the side and he really took me and the other young players under his wing. He was the utmost professional and his legacy here at Canterbury will stand the test of time".
"He has a massive heart and has been a great all-rounder for us for years. He'll be very much missed around the group. I just want to, on behalf of the whole Canterbury side, wish Elly the very best of time in life after cricket".
One man that heavily influenced Andrews career was former Canterbury and current WHITE FERNS coach Bob Carter who praised Ellis' dedication and desire to succeed in the game.
"Early on in his career Andrew showed signs of his determination to get the very best out of his ability as a genuine all-rounder," Carter said.
"When Andrew was at the top of his game he was demanding and, in a positive way, a pain in the backside with his continuous questioning and pushing the boundaries to get better and better. During my involvement with him he was always working hard on improving his skills and was the selfless team man who you could put into any situation to win or save games for Canterbury."
"The game has been fortunate to have Andrew Ellis as a part of it and I congratulate him on his outstanding achievement of playing over 100 games in each format."
Current BLACKCAPS coach and former Canterbury teammate and coach Gary Stead also wanted to recognise Andrews success.
"Elly will always stand out to me through his work ethic and desire to improve and better himself, especially early in his career when he would often be in hitting balls on the bowling machine at either end of the day. These out of sight and unseen practice hours built his resilience and technique for a very successful career across all formats."
"Above all, Elly was keen to help other people get the best out of themselves and this is always a great legacy to leave – he was stubborn, committed and a very successful Canterbury man."
The numbers:
First Class
18 seasons
5179 runs and 249 wickets (Leading Canterbury First Class all-rounder)
9 First class hundreds
5 Plunket Shield titles for Canterbury (2 as captain)
List A
17 seasons
2339 runs and 130 wickets
Lead Canterbury to Ford Trophy title in 2016/17 after an 11-year drought.
T20
Only Canterbury player to play over 100 T20 matches (117)
1195 runs (second highest run scorer for Canterbury behind Peter Fulton)
125 wickets (leading wicket taker for Canterbury)