15 March 2021
CWC22 Volunteer programme launch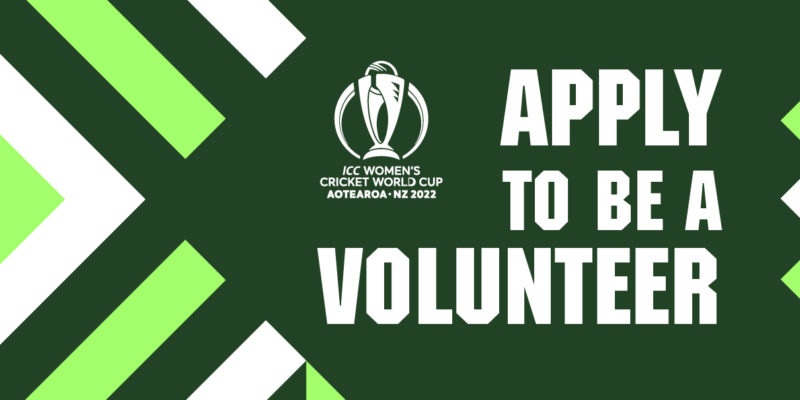 We're calling on Aotearoa locals to help deliver the ICC Women's Cricket World Cup 2022 as a tournament-time volunteer.
In 2022, New Zealand will host the ICC Women's World Cup for the third time, and the 12th instalment overall. This is the pinnacle of women's cricket globally, and an opportunity for you to join the team behind the tournament.
In 2017, over 180 million people watched the tournament, and this audience will increase in 2022 with all the matches broadcast live for the first time. It is set to be the largest women's sporting event held in New Zealand, at the forefront of women's sport, and specifically women's cricket globally.
Want to join the CWC22 crew? Click here to apply now! You can view full job descriptions here.
Tournament overview
In March and April of 2022, Aotearoa will own its moment in the global trajectory of women's sport as we host the ICC Women's Cricket World Cup 2022 (CWC22). In just over 12 months, we Kiwis will host this global celebration featuring the world's best cricketers showcasing their skill across New Zealand. The tournament may be taking place a year later than originally planned, but our commitment to staging the best possible World Cup event remains the same. View the full match schedule here. There are currently five teams who have qualified: England, New Zealand, Australia, South Africa and India – with the remaining three to be decided upon the conclusion of the ICC qualifier tournament, scheduled to take place 26 June – 10 July 2021 in Sri Lanka.
What is the CWC22 Volunteer Programme?
The ICC Women's Cricket World Cup 2022 (CWC22) is coming to Aotearoa from 4 March to 3 April next year with a global audience of millions expected to tune into the tournament.
The best cricketers in the world will go head-to-head in six cities across the country including: Auckland, Hamilton, Tauranga, Wellington, Christchurch and Dunedin and we're calling on locals interested in volunteering at matches during tournament time to apply online now at: https://www.icc-cricket.com/womens-world-cup/volunteers
Up to 750 volunteers will join the 'CWC22 Crew' as we stage cricket's pinnacle event with 31 matches being played across 31 action-packed days.
The CWC22 Crew will be needed in a range of roles, each requiring different skills and experience.
Volunteers must be 17 years or older by 4 March 2022 and must live in one of the six host cities. Successful candidates applying for volunteer positions will be interviewed in July 2021.
Find out more about how you can join the CWC22 Crew now – https://www.icc-cricket.com/womens-world-cup/volunteers