27 August 2018
Cricket & Rugby battle it out in the Hot Springs T20 Black Clash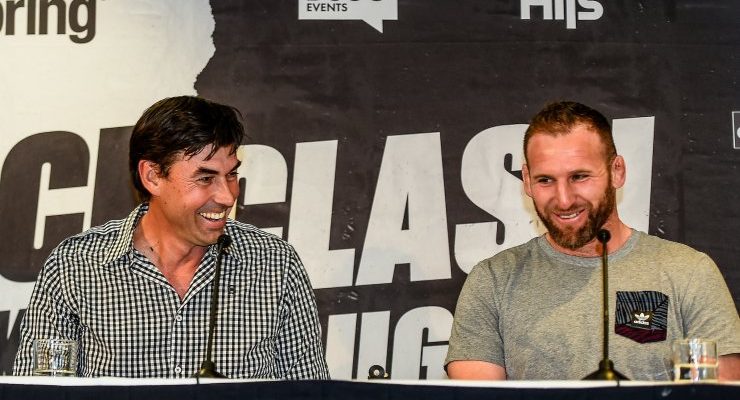 The Hot Spring T20 Christchurch Black Clash pits New Zealand's biggest sporting stars against each other in a high-intensity, hugely fun T20 cricket match at Christchurch's beautiful Hagley Oval on Friday January 25.
Stephen Fleming's Team Cricket will be defending its honour against Sir Graham Henry's Team Rugby, with a lifetime of bragging rights on the line for the victors.
Fleming has hand-picked T20 Master Blaster Brendon McCullum to lead the line-up for Team Cricket, while Sir Graham has called upon All Blacks captain Kieran Read – who played premier cricket for Karaka aged just 15 – to lead the upstart Team Rugby's charge.
Each team will be packed with international sporting superstars keen to show off their talents with bat and ball.
The leather, willow and a fair bit of banter will be flying at Hagley Oval in this summer sizzler.
THE VISION
The Hot Spring T20 Christchurch Black Clash is the brainchild of former Black Caps captain Stephen Fleming and Duco Events founder and director David Higgins.
Loosely based on South Africa's Nelson Mandela Legacy Cup – a biennial charity cricket match in which the Springboks take on the Proteas – the event will bring together many of the very biggest names in New Zealand sport.
Just over two years ago Stephen approached David and said: "I've got this great idea for an event – how do we make it happen?"
David said: "Leave it with me mate. We'll make it happen."
In January 2019, it's happening!
THE MATCH
The Hot Spring T20 Christchurch Black Clash brings together some of New Zealand's biggest sporting stars in one place at one time for a fun – but competitive clash – between New Zealand's favourite summer and winter sporting codes, cricket and rugby.
Christchurch's Hagley Oval will witness the largest gathering of current and former New Zealand sporting heroes ever assembled for a unique sporting challenge.
Both teams – cricket, coached by Stephen Fleming, and rugby, coached by Sir Graham Henry – will have plenty to play for.
For the cricketers, their pride will well and truly be on the line. Surely they couldn't lose to a bunch of rugby players at their own game? Team rugby will be out to make exactly that happen.
These guys (and girls) are all professional athletes, so there will be no lack of intensity.
Many of the current All Blacks team are in fact extremely talented cricketers. The nature of professionalism in the modern era meant they had to choose at quite a young age which sport to pursue.
Sadly, the days when a guy like Jeff Wilson could play both codes internationally are now long gone.
Had the likes of Kieran Read chosen cricket instead of rugby, many believe they would have gone on to wield bat and ball for their country.
The match will be a Twenty-20 cricket contest – with a few twists thrown in to make it a truly interactive experience for fans.
Scheduled for Friday afternoon/evening on January 25 at Hagley Park, the fun will start from 4.00pm. A family friendly event – The Hot Spring T20 Christchurch Black Clash is a unique chance for kids (and their parents) to get up close with the stars of cricket and rugby at the same time.
VENUE
Christchurch's Hagley Oval is one of New Zealand's most stunning cricket grounds. The cricket-specific venue is ringed with a gently sloping embankment that allows cricket to be viewed the way it is meant to be – in the sun, on a picnic blanket, with a host of food and beverage outlets never too far away. The venue also allows for boutique corporate marquee experiences.
TEAM RUGBY
Coach – Sir Graham Henry
Sir Graham etched his name into New Zealand sporting history when he masterminded the hoodoo-breaking 2011 Rugby World Cup victory – New Zealand's first triumph since 1987.
The victory, thanks to a nail-biting 8-7 final triumph over France, came despite the All Blacks suffering a relentless string of injuries to key players.
In Henry's eight years in charge of the All Blacks, the team claimed a series victory over the British and Irish Lions in 2005, five Tri Nations titles and three Grand Slams to go with the 2011 world cup triumph.
A right-handed wicket keeper batsman in his day, Henry played first class cricket for Canterbury and Otago.
Captain – Kieran Read
Canterbury and New Zealand rugby's gain was New Zealand Cricket's loss. The current All Blacks captain was just 15 when he forced his way into Karaka's Premier team – and his loss to cricket shortly thereafter was keenly felt.
"I don't think it's going too far to say he would have made the Black Caps," the club's captain at the time Todd McDonald told the NZ Herald. "He had something about him, even though he was so much younger than everyone else his maturity and temperament made him slot in so easily.
"It was instantly clear the ability he had, and by the time he was 16 he was the best batsman we had at the club."
TEAM CRICKET
Player-Coach – Stephen Fleming
Former Black Caps captain Stephen Fleming was one of the most stylish left-handed batsmen ever to grace the black cap. Also one of the game's deepest thinkers, Fleming became New Zealand's youngest ever captain at just 23. Now 45, he is the brains behind the success of the Chenai Super Kings in the Indian Premier League.
Captain – Brendon McCullum
The former Black Caps captain – and current T20 gun for hire for the Royal Challengers Bangalore, Brisbane Heat and Trinbago Knight Riders – holds more records for hitting a ball hard and long than you can shake a cricket bat at. Recently deposed by Martin Guptill as the highest run scorer in international T20 history, McCullum has set marks for the fastest test century (54 balls), the third highest score in all T20 cricket (158 for Kolkata in the IPL) and is the first and only New Zealander to hit a test match triple century.
Tickets
Tickets available for purchase 9AM Thursday 30th August
To talk to someone about the ticket offerings please contact Duco Events on corporate@ducoevents.com or +64 9 309 2403
Ticket Categories
General Admission
A general admission ticket, to access all general areas around the oval. Bring a blanket and settle in to watch a highly entertaining game of cricket.
Adult $59
Concession $35
Kids $19
Family deal of 2 adults and 2 kids $140
Diamond General Admission
Your own seat in the Hadlee Pavilion stand so you can relax in a comfortable, casual under cover setting, with great views of the game. Food and beverages available from cash bars located around the ground. *Note no access inside the Pavilion.
All seats $149. Only 200 available so once they are gone – they're gone!
Corporate Pavilion – only 150 available
Enjoy the Hot Spring T20 Christchurch Black Clash in style! Soak up the atmosphere with premium seats, amazing view and great hospitality in the Hadlee Pavilion. This ticket includes a full food and beverage package including cocktail style food service and grazing stations and unlimited beer, wine and cider. Get up close and personal with the greatest stars past and present of Rugby and Cricket, with speeches by some of the greats, prizes, activations and of course networking with the who's who of New Zealand.
Full package $375 + GST
Corporate Marquee
Watch the Hot Spring T20 Christchurch Black Clash from a premium designated space, with seating and access to a corporate marquee. Ideal for entertaining clients or friends and includes a full food and beverage package including all-day grazing station and unlimited beer, wine and cider! Avoid the queues, relax and meet some of New Zealand's biggest stars of Rugby and Cricket as they roll through the corporate marquees. Why not host your work colleagues or get together with a group of friends and enjoy a cracking Friday night of Cricket v Rugby!
Full package $265 + GST, places limited
Children – General Admission Ages 4-14
A general admission ticket, with children must be accompanied by a responsible adult to gain entry. Children 4 – 14 $19, under 3 free.
Concession – General Admission
A general admission ticket. This ticket in available on presentation of current student identification, seniors cards or government issues pensioner concessions cards.
$35
Family Ticket – Two adults and two children
General admission for two adults and two Children (between 4-14 yrs).
Price $140
Kids Zone
Alcohol free zone with kids activities including jumping castles, inflatables, giveaways, face painting and general all around family fun. Great viewing position on grass embankment – watch the stars of Rugby and Cricket.  Grab a picnic rug and take the family.  Children must be accompanied by a responsible adult.
Adults $59
Kids $19.
Space limited to 500
Image courtesy of Photosport NZ. 
#T20BlackClash #Cricketvsrugby