13 May 2022
COMMUNITY CRICKET CHAMPIONS 2021/22
The first Community Cricket Champion award recognizes individuals in our Community who go above and beyond in their commitment to deliver our summer game at a grassroots level. This year, we couldn't split our three finalists, so we've awarded the following three volunteers the Community Cricket Champion Award for 2021/22
Hamish Laird of Peninsula Harbour CC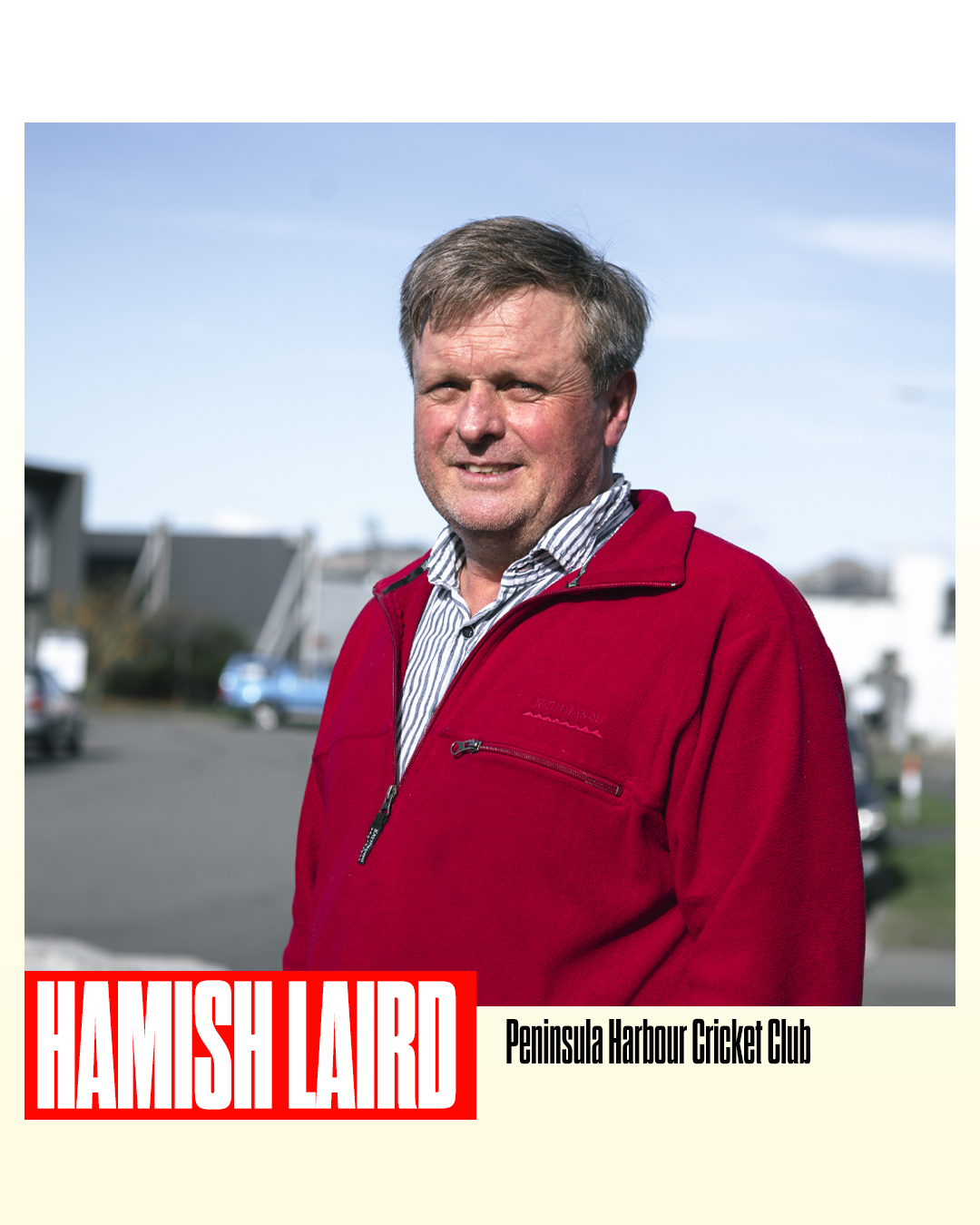 Hamish Laird has dedicated countless hours to Peninsula Harbour CC over the past 9 years. Like many, he started getting involved once his daughter started playing at age 6.
Being a rural club, reaching members of the community with good comms is key for the club's survival and advancement, and Laird's strength on the club committee lies in his digital comms and people skills. He runs the social and digital media presence and spends every Saturday during the season visiting parents and teams, ensuring everyone who plays for Peninsula Harbour is looked after and having a positive cricket experience. According to Peninsula Harbour stalwart Mark Pearson, Laird's positive impact cannot be overstated,
"Hamish has lifted our club profile on the Banks Peninsula and we are now the biggest sporting entity in the area. I have never come across a more dedicated volunteer that has made such a difference to a club."
Hamish also manages registration, coach training, he coaches teams when needed, delivers kit and organises sponsorship for the team shirts.
Speaking of his involvement with the club, he recalls the moment where he decided to give more of his time to the club after coaching his daughter's side,
"my interest came around after Abby went through, there was a dip in numbers and I thought it was something I could do to help – Abby's had a really good run and it's a really good club."
Peninsula Harbour CC boasts a total of 13 junior teams, with 5 of them being all girls teams, with the philosophy emphasizing getting girls to play cricket with other girls. Laird jokes, "some of the parents say we have such good numbers in girls cricket because we're so far away there's nothing else to do", but the value of what Laird and his fellow volunteers offer to the region is clear
Laird would like to thank and acknowledge Danny Bulman, Giles Foley, Mark Pearson, Pete Jones, Glen Court and Tim Coop for all their work alongside him to make Peninsula Harbour CC the success it is.
Don van Onselen of Shirley Boys High School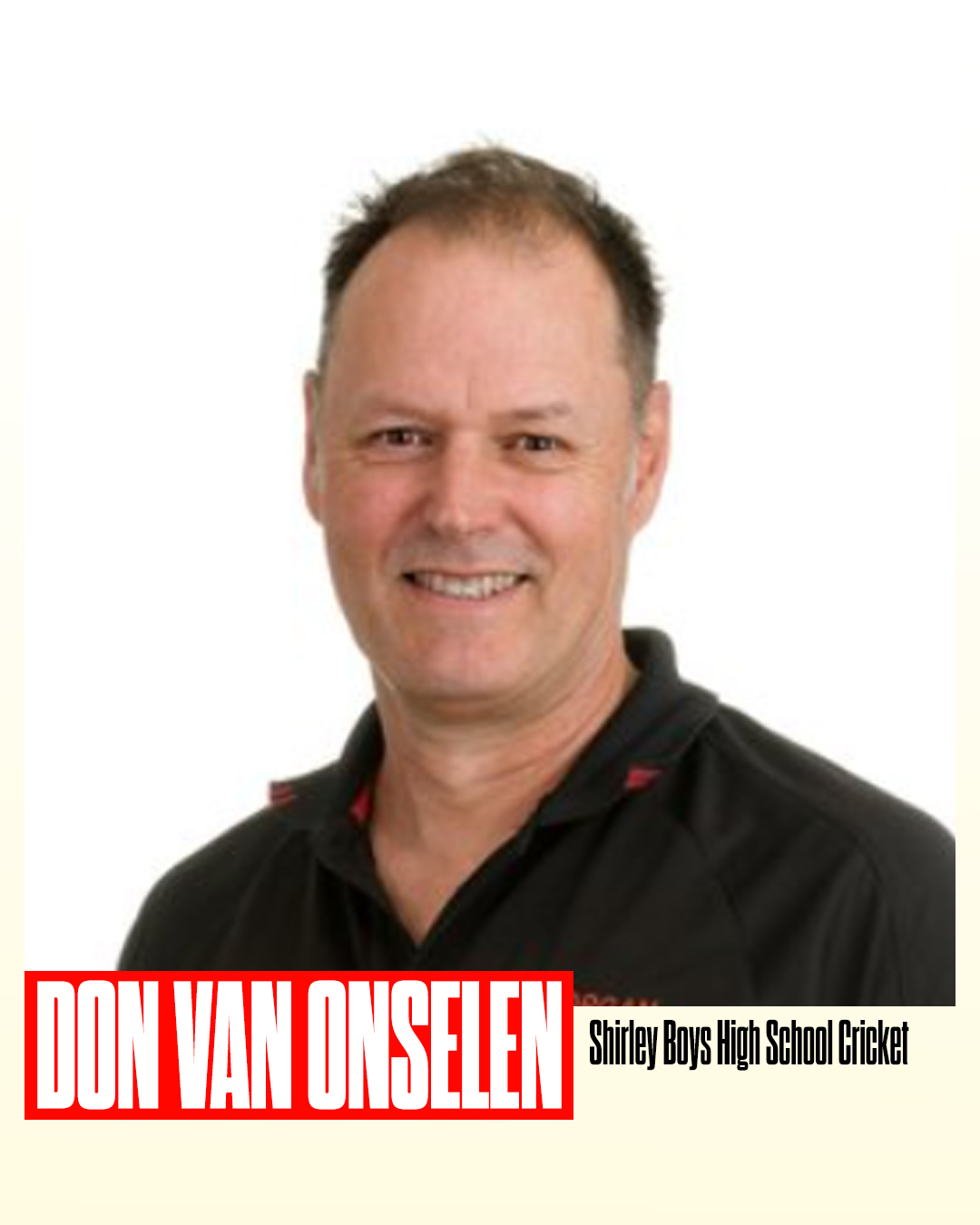 After his eldest son started at Shirley Boys High, Don stepped up and got involved in the administration of the game. Seeing his son's friends dropping out of the game as the years went by, Don saw an opportunity to lend his time to the school to try retain and grow Shirley Boys' playing numbers. Starting the Shirley Boys High Cricket Committee last year, their mission statement puts their players at the forefront of their plans, as Don explains,
"It's all about the boys, their cricketing experience at Shirley Boys, and supporting Dave Grocott, head of Cricket at the school."
"Our goal really is to support our players and coaches to give them a pathway of development and lift the profile of cricket within the school."
The end goal for Don and the Committee is to grow the school's playing numbers and get Shirley Boys High back into the top division of High School Cricket."
"We have a hugely exciting, well-coached group of young players coming through the college at the moment that we hope will go on and compete at the top level of High School cricket one day."
Don's administrative skills and labour have helped support Shirley's coaches and players to grow the teams across all levels – from social right up to First XI. During Don's service, participation numbers at the school have grown, he has led fundraising efforts, fixed training facilities, helped buy tablets for every team, supported prizegiving, assisted with playing shirt procurement, supported the school's head of cricket, and helped drive the team culture for everyone at Shirley Boys High School.
Don would like to thank his fellow members of the committee, Dom Anngow, Krish McGregor, Darrin Entwhistle, Scott Bennett, Ken David, Glenn Bongartz, Daniel Milne, Shirley Boys Head of Cricket Dave Grocott, Shirley Boys Headmaster Tim Grocott and local Coach Dan Vann"
Jenny Duncan of Selwyn Wahine Cricket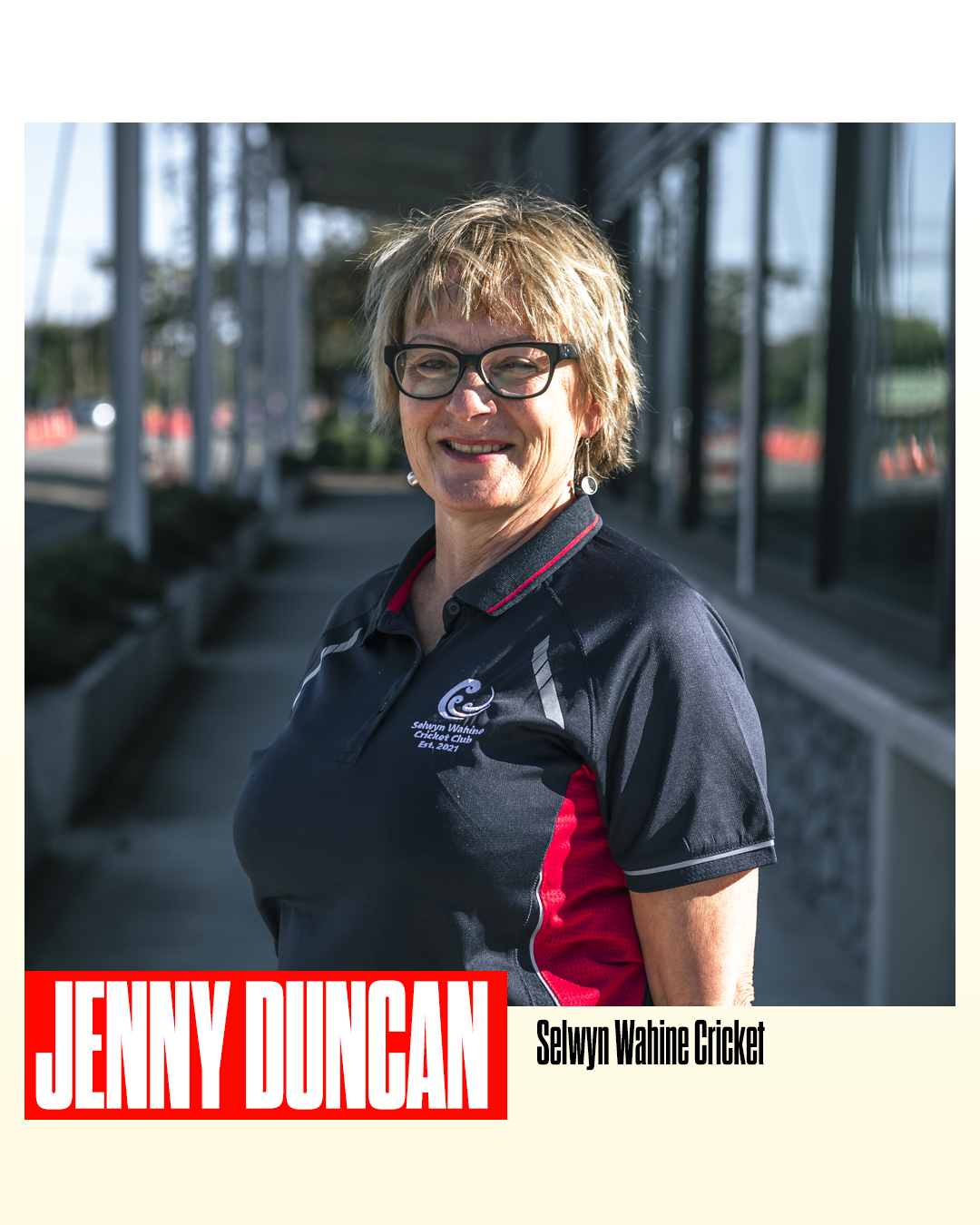 Finally, we'd like to acknowledge Jenny Duncan of the Selwyn District, who started a new club – Selwyn Wahine Cricket Club. Noticing a distinct lack of girls' cricket in Selwyn and a drop off in playing numbers once girls leave Primary school, Jenny recognized that something needed to be done to retain numbers and grow cricket in the area.­
The 'lightbulb moment' was when Jenny and  Kerri Herd said to each other,
"wouldn't it be cool if we could put a team together with older women and younger women playing together – so that's how it started."
Enlisting the help of Peninsula Harbour CC, Weedons CC, Leeston Southbridge CC and Tai Tapu CC, Jenny quickly grew the club's numbers to a point where 4 teams could take the field each week in the Christchurch Metro Competition.
Speaking on the needs of young girls in the cricket space, Duncan said,
"Our reasoning behind setting it up was, once girls get to a certain age, their needs around cricket change. With boys, the physical change is apparent, boys get a lot stronger and girls want to socialise with girls."
Giving young women the opportunity to play cricket with each other in an-all women's grade has meant that numerous female cricketers have stayed in the game instead of stopping their cricketing journey.
Jenny would like to thank Kerri and Grant Herd, Kylie Horgan, Dan Manton, Tim Gruijters, Liam Foulkes, Mike Harvey, Mike Fisher, Rachel Candy, Rob Wilkinson and Cat Quinn for all their assistance in getting Selwyn Wahine Cricket to where it is today. She would also like to thank the players and their parents for getting behind the vision of Selwyn Wahine and playing their part in making the club a reality.