10 June 2019
Christchurch will host a raft of international fixtures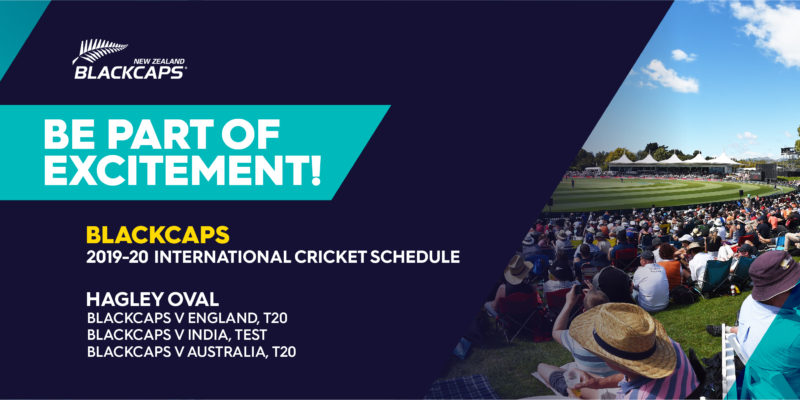 The BLACKCAPS will face England, Australia, and India over the summer season. Dates for the three events were confirmed by New Zealand Cricket on Friday, with all matches to be played at Hagley Oval.
–          BLACKCAPS v England, T20 match, Friday 1 November 2019
–          BLACKCAPS v India, Test Match, starting Saturday 29 February 2020
–          BLACKCAPS v Australia, T20 match, Sunday 29 March 2020
The T20 against England will be the first match of the national England tour, and the first T20 of the season.
New Zealand Cricket chief executive David White said they were pleased to bring these high-profile matches to Christchurch.
"It's great to see Canterbury continuing its strong tradition of international cricket hosting," White said.
"Having England, India and Australia – plus India A – coming to town in the space of one summer is wonderful news for the region's cricket-lovers".
Surrounded by the mature beauty of Hagley Park, Hagley Oval is one of the best cricket grounds in New Zealand. Any sporting event at the venue is a major drawcard for both domestic and international visitation to Christchurch.
Christchurch will also host the India A team through January and February for two One-Day international matches, and a four-day Test Match.
The fixtures were facilitated by ChristchurchNZ, Christchurch City Council, Canterbury Cricket Association and the Canterbury Cricket Trust. All matches will be delivered by Vbase.
Karena Finnie, ChristchurchNZ Head of Major and Business Events, said she was "thrilled" on behalf of the city.
"England, India and Australia represent the biggest cricketing populations in the world, and to have them play at our Hagley Oval will be a real treat," Finnie said.
"Canterbury has a proud cricketing history, and these fixtures will no doubt inspire current and future cricketers to aim high and pursue their dreams."
Countries with a strong cricket culture align with Christchurch's core markets for business and tourism, particularly Australia, India and the United Kingdom.
"The broadcast of these matches is an ideal opportunity to showcase Christchurch to these key markets, as well as provide an avenue for local businesses and government to advertise their products and services, driving indirect economic benefits," Finnie said.
To register your interest for corporate hospitality please email marketing@canterburycricket.org.nz and we'll keep you in the loop when tickets are available.
Full International Schedule