20 March 2019
CENTRAL STAGS DEFEND PLUNKET SHIELD FOR FIRST TIME SINCE 1960s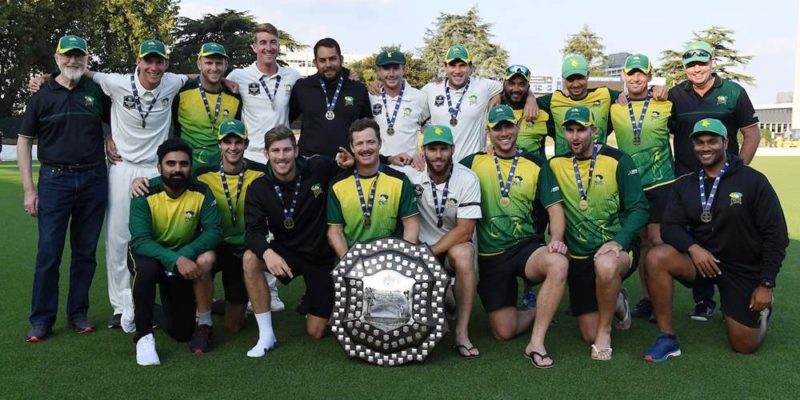 The New Zealand first-class cricket season has closed with the Central Stags defending the historic Plunket Shield for the first time since 1968.
While other teams have achieved the feat in the intervening decades, it is only the second time in Central's history that they have claimed the first-class title back-to-back.
It is the 11th title overall for the Stags since the association's inception in the early 1950s, while the Plunket Shield itself dates back to 1907.
Captain Greg Hay, the red-ball traditionalist who took over from Will Young at the start of the season, lifts the trophy in his first season as skipper, and has again finished as the second most prolific batsman of the competition, his 633 runs at 48.69 from 8 matches behind only Wellington Firebird Devon Conway's 659 runs from 7 matches at 82.37.
Hay also achieves the rare feat of winning both the Hawke Cup (with Nelson) and Plunket Shield (Central Stags) in the same season as a captain.
Northern Districts leg spinner Ish Sodhi meanwhile overtook Wellington Firebird Hamish Bennett (32 wickets at 17.87 from 6 matches) during the final round to become the season's top first-class wicket-taker with 36 wickets from 7 matches at 24.97. Otago Volt Matt Bacon also lept up to third after storming to 31 wickets in the final rounds (7 matches).
Sodhi took the final wicket of the season as Northern Districts claimed a rare victory over the Stags at Seddon Park, with just a handful of overs remaining in the last session of the summer, ND winning by 142 runs. However, it will be Central who once again get to take home the trophy, in Head Coach Heinrich Malan's final match with the team after six years with the team.
Malan's swansong season was the first time the Central Stags had won both the Burger King Super Smash T20 trophy and Plunket Shield in the same season.