15 August 2019
Canterbury's summer of cricket announced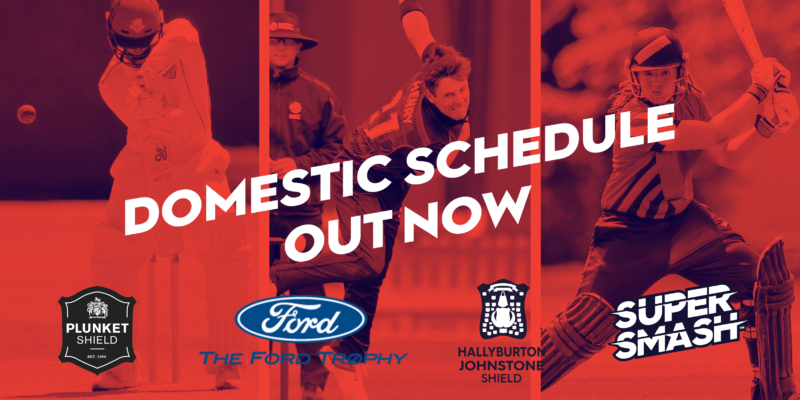 New Zealand Cricket has released the full schedule for the upcoming men's and women's domestic seasons.
In total, there are 30 days of domestic action planned for Canterbury this summer, beginning with a match against Northern Districts to open the Plunket Shield campaign on October 21 – a game sure to see some familiar Blackcaps faces involved.
The Canterbury Magicians will also begin their season against their Northern Districts counterparts, hosting the Spirit on November 16 and 17 in the HallyBurton Johnstone Shield.
The Ford Trophy will kick off that same weekend, with Canterbury men away for the first two rounds, before returning home for the central round where all six teams meet in Christchurch. The central round will comprise of three games per team over a five day period with games spread across Lincoln and Hagley Oval.
Plunket Shield, Ford Trophy and Hallyburton Johnstone Shield will then break for Christmas when the fast-paced excitement of T20 Super Smash gets underway.
A number of improvements to Super Smash have been made across the board, with a shortened season, more double headers and increased television coverage being the main focus points. SKY TV have increased broadcast coverage by 95%, which includes 170% increase in women's Super Smash coverage. Hagley will have SKY TV roaming the Oval for four of their five home matches, three of which are double header fixtures with the women. All games televised through SKY TV will also be televised across India through STAR SPORT. This is great for the competition as the public can consume more of the Super Smash on TV than ever before.
The women's Super Smash finals format has also been tweaked with an Elimination Final added to the schedule and the Grand Final to be hosted by the top qualifier in round-robin play.
Canterbury Cricket Season Memberships and Tickets will be available to purchase from mid-October. Keep a look out on our website and social media for further details.
Full Canterbury home Schedule below