07 March 2021
Canterbury wins 2021 FORD TROPHY Grand Final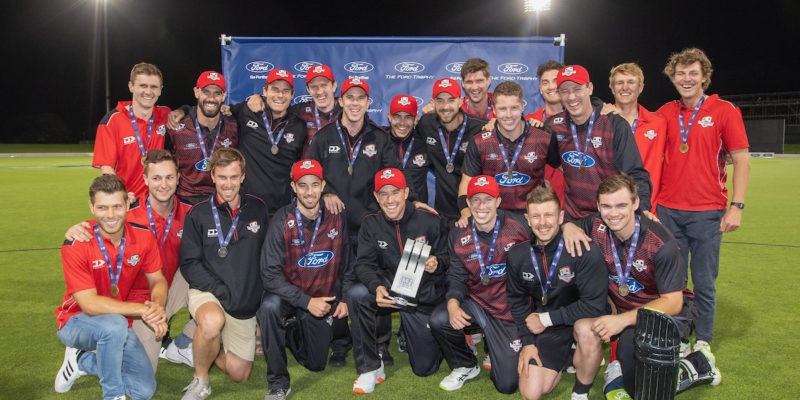 Looking for ND's first one-day title in eleven years, Northern Districts captain Joe Carter won the toss and batted first on a flat Hagley Oval deck – fielding an unchanged XI from his side's emphatic Elimination Final win over the third-placed Wellington Firebirds just days earlier. But this match would have a very different outcome.
It started well enough for the visitors. Twenty-one-year-old Katene Clarke made an impressive start against the Canterbury opening attack of Matt Henry and Ed Nuttall in his first Final, but it was Canterbury's leading wicket-taker of the season, Will Williams, who made the breakthrough at first change.
WICKET | Williams collects the first wicket of the Ford Trophy Final to dismiss Raval for 5 (18).

SCORECARD | https://t.co/3g6L2OCpPG
🟥⬛️#WeAreCanterbury #FordTrophy pic.twitter.com/fRcz0BGlnA

— Canterbury Cricket (@CanterburyCrick) March 6, 2021
It was the first piece of Canterbury magic on what would be the home team's night – an outstanding, low caught and bowled as he swooped in his follow-through to take the sharp catch from the senior statesman,  Jeet Raval who had meanwhile been looking to set himself in.
It was just Williams' fourth delivery of the match, and he immediately looked a threat – tying Clarke in knots, and unlucky to have him dropped after a caught behind chance on 27*.
It was otherwise an evenly matched first 15 overs between the two sides as they fought for ascendancy – before Clarke reached his sixth half century off 62 balls just before the first drinks break.
Clarke pushed on, batting deep into the 32nd over before Canterbury would finally strike again.
Absorbing all the pressure, the young man had gone past his previous List A best of 69 to reach a new high score of 82 in 104 balls, including seven boundaries, and a six off spinner Cole McConchie.
Captain Carter, working the ball so effectively, was meanwhile looking increasingly dangerous in their 125-run stand.
But Canterbury, stronger through the middle, were about to claw their way back with the ball. No doubt the youngster was disappointed to miss out on what might have been a maiden hundred in a Final when nagging Todd Astle had him caught, but he had helped craft a new second-wicket partnership record for matches between the two sides – a record that had stood for almost two decades, and there was no better day for it.
His departure brought together the Carter/Henry Cooper combo once more – the latter fresh off his stunning maiden 146* in the 2v3 knockout Final three days earlier where the pair had shared a century stand. And, by now the rock Carter already had his fourth one-day half century on the bounce, leading steadily from the front.
Then ND lost Carter as well. Canterbury pushed back for a period as Ed Nuttall (2-58) picked up his first wicket in the 37th, Carter looking to hook a short one only to feather it behind to an elated Latham.
When Nuttall stopped dangerous Cooper in his following over soon after, the momentum shifted back to the hosts at a crucial stage.
ND didn't capitulate. They had their BLACKCAPS Colin de Grandhomme and BJ Watling new together at the crease now, while Astle came back to try to keep the pressure on. At 196/4 after 40, ND was still well set for a healthy total in a Final.
Henry's tidy third spell was impressive, a good match-up for the experienced duo at the crease, followed up by death bowlers Williams and Mitchell.
But Watling (31 off 28) and de Grandhomme (a crunch 57 off 37) nevertheless found the way to craft an invaluable quick 82-run stand, until Williams got a bonus wicket in the penultimate over with a misdirected slower ball, Watling missing his timing and lobbing the catch to Ken McClure at 271/5.
The batsmen having crossed, Williams then missed his length again next ball and this time there was no let off as de Grandhomme smote him for a huge six to bring up a half ton off just 34 balls (5×4, 2×6).
The competition's top wicket-taker, Williams finished with 2-46 off his nine, Mitchell tasked with closing out the innings, de Grandhomme now accompanied by a fellow powerful hitter in Brett Hampton.
The last over was a worrying one for ND, however – allrounder Hampton taking a painful blow on the bone of his ankle first ball and left hobbling. De Grandhomme then miscued a catch to Chad Bowes: 283/6 as Scott Kuggeleijn headed out to the middle with four balls remaining.
He found the rope before Hampton provided Mitchell (2-37) with his second wicket of the over on the last ball, ND finishing with 289 for seven to ask their hosts to find an RPO of 5.80 under lights.
The teams breaking ground with the first Domestic one-dayer under the new lights of Hagley, Canterbury made a sound start to the chase, with Nicholls getting off to a flier.
Dropped on 25* by a leaping Raval – a flying chance at slip off Kuggeleijn that at least stopped another boundary, the BLACKCAP soon took the lead in a quality 50-partnership with Bowes inside the first seven overs, as ND grew increasingly anxious to stop their stand.
After the first 10 overs, ND was still searching for that initial breakthrough while Nicholls had raced to the brink of a half century to ensure the hosts kept pace with the required rate early.
Nicholls brought up the Canterbury hundred without loss in the 16th over, during which time Bowes had stealthily moved up to 39* off just 33 balls.
Carter finally turned to his chief spinner, Joe Walker, just before drinks. And – finally, in the 19th over – ND broke the stand as Walker trapped Bowes on 42. But the runs had been flowing too steadily, and Nicholls had eased to 66* with 113 on the tins as Ken McClure strode out to join him.
And from there, ND was in for a long, lonely evening under lights in the empty stadium, the body language drooping as Nicholls and McClure powered on with ease to another big century stand for the second wicket.
View this post on Instagram
With 10 overs to go, Nicholls was now punishing Raval for that hard, missed chance early in the innings, Carter having had to call on the occasional bowler's leg-spinners – Raval having bowled just 42 balls all season, for no wickets.
The red and black writing was on the wall. Canterbury needed just 48 further runs now at 4.8 per over – at 242 for one. And yet it was Raval who finally broke the monumental stand: McClure caught by captain Carter on 92, off just 74 balls.
A century of his own gone begging, but an emphatic 150-stand for the second wicket had surely put nine fingers on the trophy.
Tom Latham joined Nicholls for what would be the last three and a half overs as Canterbury wrapped up a stylish eight-wicket win for their 15th national one-day championship title in the competition's 50th summer – and this after having been the beaten finalist in this season's other white-ball men's final, the Dream11 Super Smash.
The team is also leading the red-ball Plunket Shield, which resumes in the coming week.
Canterbury had won just one limited overs trophy in the preceding 14 seasons, but this time they had made sure of it with five overs to spare as Latham hit the winning boundary off Matt Fisher for the celebrations to begin. ND had ultimately been unable to match them with the ball, on a night that belonged to Nicholls who finished unbeaten on 127* off 144 deliveries, batting throughout the innings, with 12 boundaries and twin century stands.