05 November 2019
Canterbury v Wellington Plunket Shield – Round Two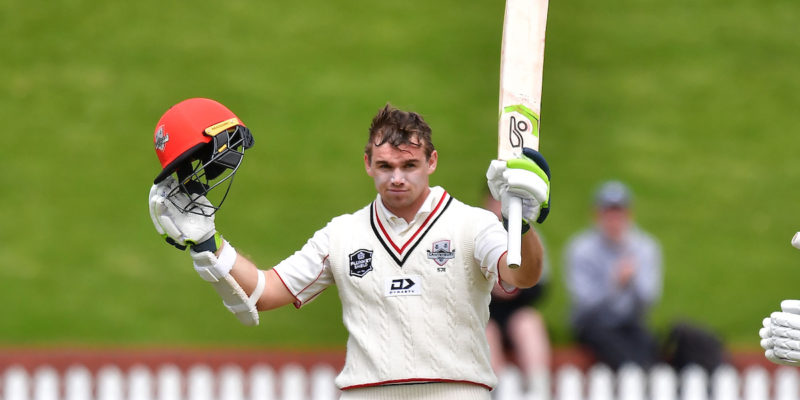 Canterbury fell just short in a high scoring affair against the Wellington Firebirds in Round 2 of the Plunket shield on Friday.
Chasing 358 on the last afternoon and with just 76 of those left to find in the final session, Canterbury gave it a solid crack – reaching 313 in 74 overs before Malcolm Nofal (4-100) claimed the final wicket.
Earlier, recalled Firebirds allrounder Jamie Gibson made a ballistic start to the final morning as the hosts looked to slap on quick runs to their sizeable match tally before their declaration.
Gibson's knock of 43 flying off just 18 balls, he blasted four sixes in the handful of overs it took to take their overnight score from 186/6 to 247/6 at the declaration – a whirlwind quarter of an hour, 54 runs in just three overs!
That set Canterbury a chase of 358 to win, with the bulk of three sessions in front of them. Chad Bowes and Tom Latham got the first 50 on the board before the aggressive Bowes fell victim to Iain McPeake, putting a stop to his racy 27-ball 40.
Latham was more restrained, but a huge loss when he was caught off Logan van Beek, at 86 for three after almost an hour and half of the tantalising chase.
With Nofal already having snaffled first drop Stephen Murdoch cheaply, it set in train a middle order collapse.
Todd Astle (33 off 15) and then Matt Henry (43 off 40) were forced to up the ante in the scurry for runs, batting around a rearguard anchor in Cam Fletcher – until Gibson's enjoyable day continued with his maiden first-class wicket.
The Canterbury tail fought admirably after Gibson struck again – this time removing the critical wicket of Fletcher, who had knuckled down for almost and hour and a half for his 26.
Will Williams (36*), Andrew Hazeldine (36) and Ed Nuttall collectively found a further 81 runs in a riveting last session to get them close, but the loss of the eighth wicket left Nuttall exposed. Twenty-one minutes later the Firebirds were back in the home changing room, about to sing the song once again.
DAY THREE
Close of play: Canterbury 415/9 declared (first innings), Wellington Firebirds 186/6 (second innings), a lead of 296
In a match fast becoming a first-class nuffie's dream, Tom Latham's double century was the highlight of another high-scoring day at the Basin Reserve.
Having been 102 overnight, the class Cantabrian rocked on through the third morning to reach 170* by lunch before bringing up his double in the middle session.
Another Double ? for Tom Latham at the @BasinReserve.

Canterbury has now declared on 415/9 and the @wgtnfirebirds openers are now back at the crease.

Scoring | https://t.co/gInuUHYEFL#wearecanterbury #CricketNation @PhotosportNZ pic.twitter.com/WwD1BEW9jV

— Canterbury Cricket (@CanterburyCrick) October 31, 2019
He'd lost four partners along the way, however, each had been inspired to string together a series of handy partnerships that took the visitors from 207/5 to 405/9 by the time leg-spinner Peter Younghusband finally trapped the opener on 224.
Sixth wicket with Cam Fletcher: 83
Seventh wicket with Matt Henry: 77
Eighth wicket with Will Willams: 31
Ninth wicket with Andrew Hazeldine: 80, just five runs shy of the Canterbury record v Wellington Firebirds
Having previously scored an unbeaten 264 for NZ on the same turf, and a 261 for Canterbury, it was still well shy of Latham's career best.
Canterbury's last pair added a further 10 runs before the declaration, the Firebirds beginning their second dig with a lead of 110.
When Will Williams broke through at 70/1 with the wicket of Andrew Fletcher (31 off 32), all eyes turned to the batsman walking to the middle – first drop run machine Devon Conway – to see what he could do this time. Another cheeky century, perhaps? Too much to wish for?
By the time his half century arrived off just 70 balls, hopes were rising. At an aggregate of 386, he eased his way past the big names on the New Zealand individual record chart for the most runs in a single first-class match. Bert Sutcliffe's record had stood since 1952/53.
And then – with what would become just seven balls left in the day, Cole McConchie broke the spell. Compact Conway finally missed one, the appeal went up and the finger was raised: trapped on 66. A wicket maiden for the Canterbury captain.
Just in case you're wondering how to get Devon Conway out ?? pic.twitter.com/blos2dcFNC

— Canterbury Cricket (@CanterburyCrick) October 31, 2019
Canterbury turned it into a double stroke of fortune as Andrew Hazeldine had Malcolm Nofal caught six balls later to have the Firebirds 186 for six at stumps.
Congratulations to Todd Astle who with this dismissal of @wgtnfirebirds keeper Tom Blundell becomes the first player to take 300 first-class wickets for @CanterburyCrick! LIVE video scoring from the @BasinReserve | https://t.co/AnLmvgNd5h #PlunketShield pic.twitter.com/MXdPpMR3TH

— BLACKCAPS (@BLACKCAPS) October 31, 2019
Conway's rearrangement of the recordbooks wasn't the only notable piece of statchat at the Basin on the third afternoon, with Canterbury's BLACKCAPS leg-spinner Todd Astle also achieving a first.
DAY TWO
Close of play: Wellington Firebirds 525/7 declared, Canterbury 207/5
New Zealand first-class batting records were rewritten today with Devon Conway reaching his maiden triple ton at the Basin Reserve this morning.
Having resumed on 261 not out, the sublime Conway reached his triple century in the first hour, racing through the 290s in just three balls – hitting two boundaries before running a three for his milestone.
With the support of allrounder Jamie Gibson (whose maiden first-class half century will be in danger of being unjustifiably overlooked), Conway then began to reel in some of the select list of names ahead of him in the chart of highest New Zealand first-class scores.
Michael Papps' unbeaten 316* two seasons ago at the same ground stood as the Wellington Firebirds record until today: Conway equalled that at 11.45am with a single, before Gibson ran a leg bye to bring up the Firebirds' 500 off the next ball.
Conway then promptly tapped another single off Todd Astle to claim the Firebirds record outright at 501/6, with only Dean Brownlie, Wally Hammond, Roger Blunt, and Bert Sutcliffe's two triple centuries (his 385 in 1952/53 the national record) now above him on the all-time, all-teams list.
Gibson stroked a four off Will Williams's subsequent over to register their 150-stand for the seventh wicket, off just 175 balls, as the hastening avalanche of runs continued to pile up on Canterbury.
Astle finally broke the stand a few minutes later to put a full stop on Gibson's career best at 65, his breezy knock having included 10 boundaries and one six.
Logan van Beek joined Conway on 323* and 515 for seven but Firebirds captain Michael Bracewell put a stop to all this statistical fun by declaring the innings at 525/7, to give his bowlers a crack at Canterbury shortly before lunch.
Conway had scorched his way to an unbeaten 327 off 352 balls. From just three innings so far this Plunket Shield season, the Domestic batsman of the moment has already scored 444 runs at 221.00, including a record 48 boundaries and five sixes in this scintillating innings.
Get around this! 327*…! ?

Played, Devon! ??? https://t.co/Hm6SNW3aMJ pic.twitter.com/HJJW3GhWUc

— GM Cricket ? (@GMCricket) October 30, 2019
Canterbury got through the tricky 10 overs before lunch unscathed, but lost three wickets in the middle session – Henry Nicholls becoming Firebirds captain and (very) occasional off-spinner Michael Bracewell's maiden first-class victim right on the stroke of tea.
Bracewell had previously bowled for the Otago Volts in the Plunket Shield, but never before for the Firebirds as Nicholls popped an easy catch up to Fraser Colson at short leg. It was the cue for a rapturous celebration from the bowler, who took off around the ground in Jamie Gibsonesque fashion, a wicket in his 77th first-class appearance.
It was a disheartening blow for Canterbury who had made a solid enough start to the monumental task of hauling in the Firebird's 525/7 declared.
Opening batsman Tom Latham was still going, and had shared an 85-run stand with Chad Bowes for the first wicket until Iain McPeake broke through just as Bowes stood on the cusp of a half century, the right-hander caught behind on 46.
McPeake quickly had a second, picking up Stephen Murdoch caught off his next over, leaving Latham and Nicholls looking to steady the ship.
The shock loss of Nicholls on 16 was not part of the plans and, after tea, there would be a further maiden wicket with Michael Snedden claiming Todd Astle as his first, on debut, after Astle shouldered arms only to squarely lose his castle.
Snedden's celebration was as joyous as Bracewell's as Canterbury found themselves in trouble at 134 for five, having already lost their skipper caught and bowled to spinner Malcolm Nofal – and now, still lagging by 391 runs.
Rearguard batsman Cam Fletcher had an important task on his hands and carefully started work on a 50-stand with Latham for the sixth wicket.
Latham was Canterbury's hero of the day, bringing some sorely needed cheer to the dressing room as he raised his bat for his fourth first-class century for Canterbury, and his 18th overall.
The three figures had arrived in 202 balls, after exactly four and a half hours' concentration, driving to the boundary late in the final session.
DAY ONE
Close of play: Wellington Firebirds 415/6
Devon Conway will sleep well tonight – having sizzled his way to a career best unbeaten 261 not out (298 balls) on day one of the second round of the 2019/20 Plunket Shield.
It was the classy first drop's third first-class double century in the space of four seasons, and completely turned the tables on Canterbury who had earlier made an excellent start of their own – captain Cole McConchie winning the toss and bowling at the Basin.
With quick Ed Nuttall and BLACKCAP Matt Henry (3-81) quickly relishing the opportunity, the injury-hit Wellington Firebirds were reeling at 20 for three – and Conway had lost a further partner by lunch, Will Williams trapping Tom Blundell cheaply to have the hosts 54 for four.
Economical Williams put in a solid day's work at the office alongside Henry yet, by stumps, the Firebirds would be sitting atop an ominous 415 for six, Conway still there after 92 overs, having unleashed his devastating cut shots since the fourth over of the day – and dropping some serious statchat along the way.
A batsman reaching 200 before his team gets to 300 is an unusual occurrence. Hats off to Devon Conway.
The 28-year-old South African Kiwi (who will qualify to play for New Zealand at the beginning of next season) hadn't done it all on his own.
Malcolm Nofal (45) and Peter Younghusband (36) played supporting roles as Conway picked up the pace through the afternoon, with 129-run and 173-run partnerships for the respective fifth and sixth wickets.
But this was a Conway show. Technically his 17th first-class century, third double, and cruising past his previous career-best unbeaten 205* from the 2016/17 South African season which he only narrowly missed bettering last summer. He raised his double ton with four and six off consecutive balls from Todd Astle.
Canterbury was left utterly ruing their few missed chances against him – he had been dropped off Henry, while a vociferous appeal by Will Williams was calmy disregarded by the judiciary.
Conway's first century of the day came off 138 balls and included 20 boundaries in just under three hours. His second ton took just 95 further balls, in less than two hours with a further 11 boundaries and three sixes.