24 October 2019
Canterbury v Northern Districts Plunket Shield – Round One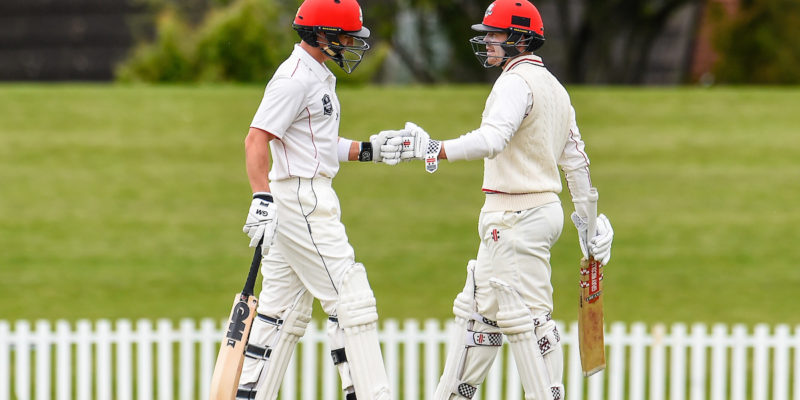 Late spring weather continued to interrupt the good business of cricket, rain disrupting this morning's session just as ND stood on the brink of chalking up 500 runs in their first innings of the season.
Overnight centurion Daryl Mitchell had by then already extended his career-best innings to 170 not out, now assisted by Tim Southee.
Earlier, paceman Andrew Hazeldine bagged a dramatic wicket with a short ball to Mitchell Santner. Santner had blazed his way to a brazen 96, but was caught, swiping the ball to Theo van Woerkom in the outfield.
It was an ungainly end to an entertaining knock from Santner that ultimately robbed him of a third first-class hundred for his team. His 96 had flown off just 122 balls, including nine fours and three sixes.
At 480 for six, Santner and Daryl Mitchell's 176-run partnership was well short of the ND record stand for the sixth (the 322 set by Mark Orchard and Joey Yovich in 2005/06), but finished just four runs shy of the side's sixth-wicket record against Canterbury.
With the late morning rain refusing to budge, however, the match was declared a draw shortly after lunch, no further play possible with both sides settling for just a handful of bonus points in the run-heavy opening round.
Canterbury now heads to early leaders the Firebirds' happy hunting ground of the Basin Reserve for round two, while ND heads home to Bay Oval to host the Stags, who are still wrestling with the Aces for outright points in Auckland in the last live match of the opening round.
DAY THREE
Centuries to both Tim Seifert and Daryl Mitchell provided the highlights at Hagley Oval as ND responded in kind to Canterbury's strong opening day assault with the bat.
By the end of the third day ND hold a tiny two-run lead, with one day remaining in the match.
Wet weather had delayed all three matches around New Zealand on "moving day", play finally getting back underway at Hagley after lunch. Having resumed on 85, it left no time to waste for Seifert who raised his bat for his fifth first-class century, off 154 balls in 241 minutes and including 13 boundaries.
Seifert combined well with Mitchell, the pair ticking of a 50-stand for the fifth wicket in just 72 balls, before Mitchell reached his half ton. A further 24 runs were pasted on by the pair before Will Williams finally broke a threatening stand, Seifert caught behind on 119.
From 221 for four, Mitch Santner took up the partnership duties in the hour before tea. He remained at his post throughout the final session, reaching an unbeaten half century (54* off 70) in an unbeaten 88-run stand with Mitchell. Mitchell's seventh first-class century arrived off 193 balls after more than four and a half hours at the crease, heading in unbeaten on 112*.
DAY TWO
After finally dismissing their hosts for 390, it was the stellar ND side's turn to power up a total at Hagley Oval today. It didn't go quite to plan.
Overnight Canterbury batsman Cam Fletcher had earlier been left stranded on 49 after Neil Wagner and Mitch Santner chipped out the tail in the morning session – albeit with a feisty resistance to the tune of 31 runs in nearly an hour and a half from Canterbury number 10 Will Williams.
It was a career-best with the bat from the tailender that saw him put on a 70-run stand for the ninth wicket with the dependable Fletcher.
However, by lunch, the Cantabrians were in the field and ND was heading into the break one wicket down after quick Ed Nuttall had yorked Daniel Flynn.
That presented the next challenge – dislodging Kane Williamson, who was yet to get off the mark at the break. Combining with Tim Seifert, the BLACKCAPS skipper's stay would last just 45 minutes, however, before Matt Henry and Tom Latham combined to have him caught at second slip.
From 59 for two, a patient Seifert continued to give ND some amorphous hope to hold onto of hauling in Canterbury's 390, still there as the visitors reached 150. But by now they were three down, with the quick loss of BJ Watling and the added discomfort of Dean Brownlie retiring on 16.
By stumps, Canterbury still held a lead of 234, Seifert heading in unbeaten on 85 for the night.
DAY ONE
With BLACKCAPS available for all matches this round, Northern Districts has taken an all-star line-up into their away clash with Canterbury. Every member of ND's playing XI has represented his country – and this with Colin de Grandhomme forced to skip proceedings with a virus.
After Canterbury captain Cole McConchie opted to bat against the all-star attack at Hagley Oval, Trent Boult claimed the first wicket of the Domestic season by trapping fellow BLACKCAP Tom Latham on 20, for Boult's 100th first-class career wicket for ND.
Boult would end the day with 3-62 after having added Henry Nicholls and a scoreless Matt Henry to his haul.
However, the hosts had been made big strides in the interim with ND forced to toil through much of the afternoon. Nicholls (103, the first century of summer and the 10th of his career) and McConchie (107) both posted centuries in a new Canterbury record for the fourth-wicket. Their partnership broke a mark of 181 that been set by Vaughn Brown and Tom's father Rod Latham at Gisborne in 1986/87 – by just one run.
It was Neil Wagner (2-118) who prised them apart at 232 for four early in the third session, with a further four wickets falling before stumps while the handy Daryl Mitchell chipped out 2-14 off his 12 overs.
Canterbury's player of the year last season Cameron Fletcher marked his 50th first-class game by bringing up his 2000th first-class run in the final session, and remains unbeaten on 12 not out.
He will resume with number 10 Will Williams on seven not out, Canterbury 327 for eight at stumps.