11 November 2019
Canterbury v Central Stags Plunket Shield – Round Three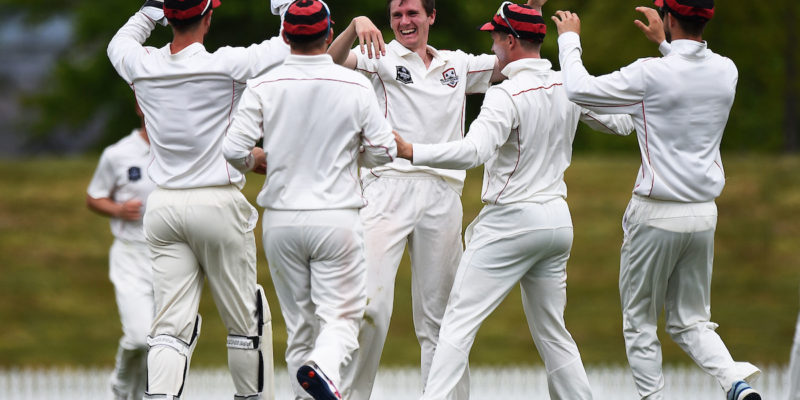 RESULT | Match drawn
DAY FOUR
Another ground delay greeted players after overnight rain, an early lunch taken before the sun came blazing out and play began in increasingly warm, fine conditions: cricket weather, at last.
Stags Ben Smith (53* overnight) and Brad Schmulian soon chalked up their hundred-stand for the third wicket, Schmulian going on to his half century off 109 balls (five boundaries).
The pair would fall in short succession, one over apart, but had put the Stags back in the control seat their application on a still green-coated deck. Schmulian was caught on 63 by Cole McConchie off Astle, Smith trapped by Sheat who has picked up a bit of extra pace from the previous season.
Dane Cleaver joined Tom Bruce as the two fresh men in the middle, patiently guiding the hosts past the 200-mark. An hour later the keeper-batsman was on his way for 11, caught behind off Will Williams to have the hosts 203 for five with an overall lead of 155.
With the match at the Basin by now having been called and drawn, the Saxton Oval game theoretically carried more import for the Stags who had a chance to gain valuable ground on leaders the Firebirds, while the Aces remained behind them in third.
They were content to settle for the draw, however, having fought their way back from a tough first day in the weather-interrupted match, Greg Hay and Cole McConchie agreeing to pull stumps with the side nine down on the last afternoon.
DAY THREE
As the soggy weekend rolled on, overnight rain saw covers remaining parked on the Saxton Oval block during the morning, with another early lunch scheduled.
Hosts the Stags were keen to bowl on: they needed one more wicket for a fourth bowling bonus point, and right on cue at the end of the repast, the skies suddenly lifted to allow a start time of 1.50pm.
Seth Rance then bagged the last bonus with just his second nut of the day. Todd Astle went on to reach his half century for Canterbury, but Ajaz Patel soon wrapped up the innings on 212: a first-innings lead of 48 for the visitors.
Without a chance to add to his previous day's figures, Willem Ludick had finished with a first-class career-best 4-51 off 17 overs.
Matt Henry and Ed Nuttall opened the four-prong pace attack for the visitors, Henry with an early breakthrough in the first 22 minutes despite showing some discomfort at the bowling crease, Stags captain Greg Hay nicking behind for the first wicket.
After Will Williams had George Worker caught at 36/2, Ben Smith and Brad Schmulian picked off the remainder of the deficit, however, and took their side into a 21-run lead by tea.
By the time poor light ended play late in the last session, the Stags still had eight wickets in hand as Smith and Schmulian steadied the ship.
Smith had reached his half century and Schmulian was poised on 42* in their 92-run stand, the Stags to begin an intriguing final day in the lead by 80.
BEN SMITH & BRAD SCHMULIAN put the ? ? on the board with a lead of 52 #PlunketShield #LOVETHESTAGS ? ? @MargotButcher pic.twitter.com/VZDacffj1E

— Central Stags ? (@CentralStags) November 10, 2019
DAY TWO
An early lunch was taken after light morning rain saw the covers go on ahead of the scheduled morning session, the teams finally warming up after the break and covers coming off.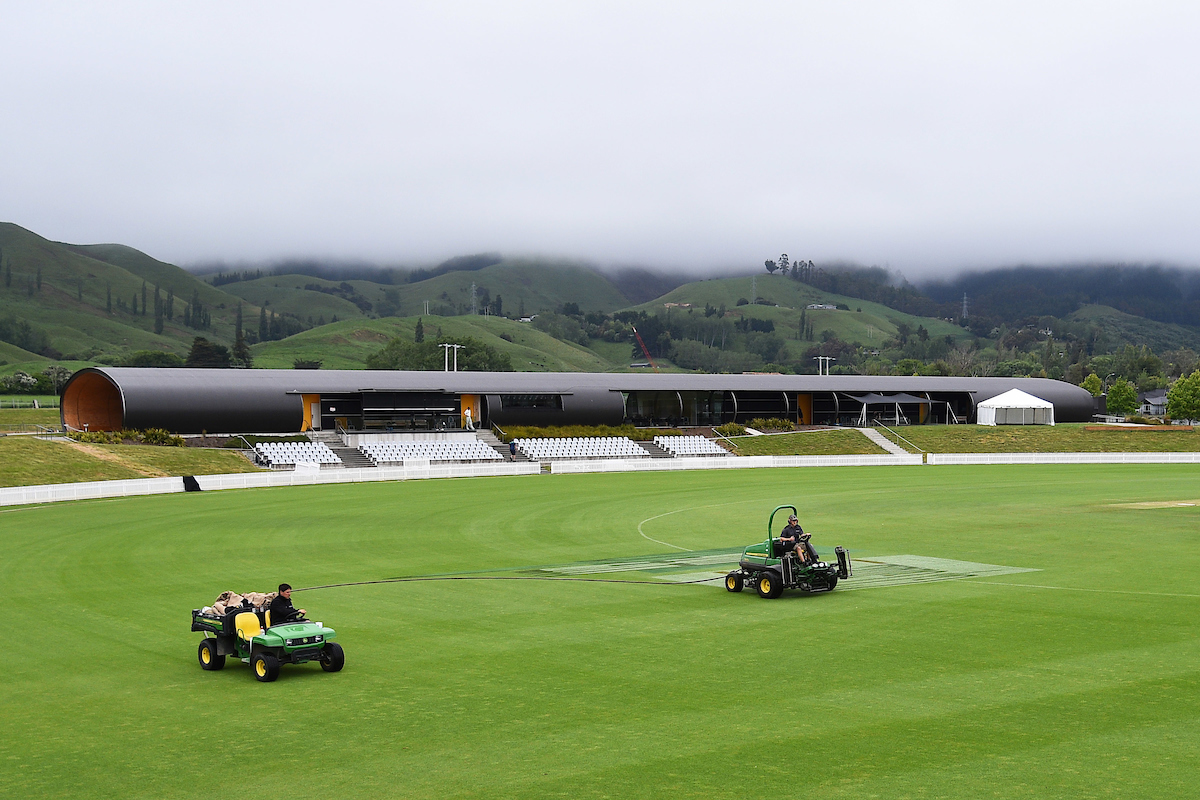 The resumption just before 1PM saw Stephen Murdoch resume on 63* with Todd Astle, the pair taking Canterbury past the 150-mark and then into the lead.
Murdoch appeared to get a let-off when he edged Rance on 75*, only to be caught behind off Willem Ludick in the next over. Ludick then converted the breakthrough into a double strike, quickly getting dangerous Cam Fletcher caught behind to sit on 3-39, Canterbury's lead of 13 looking precarious.
That lead had crept to 33 when another weather interruption brought the covers on again and the tea break was taken, after just an hour's play – Todd Astle on 43* at the time, Canterbury 197 for seven.
Astle was still on 43* when the batsmen came off for light for a matter of minutes, went back on, and then came off for light yet again, just an over and a half later. In that time a further wicket had fallen, eight down after Ajaz Patel picked up Will Williams, caught by Brad Schmulian.
Ludick by now sat on 4-51, having had Matt Henry caught by Schmulian and now in sight of a maiden five-for. After a frustrating evening sitting around watching misty clouds, bad light eventually ended play, a total of only 19 overs having been possible all day.
Todd Astle will resume on 46* with Canterbury leading by 40, with two wickets in hand.
DAY ONE
Stumps: Canterbury 133/4; earlier: Central Stags 164 all out
Presented with a green-tinged deck on a humid and very overcast, almost misty Saxton Oval morning, Canterbury captain Cole McConchie had no hesitation in sending in hosts the Central Stags at Stoke.
With Ed Nuttall, Matt Henry and first change Fraser Sheat – set for a career-best day – all relishing the conditions, the Stags needed a patient beginning.
Despite the loss of George Worker in the first half hour, hometown captain Greg Hay looked to be making a good, measured start on it.
The veteran opener was still there by lunch on 31*, however, the hosts had lost a further wicket in the session with Ben Smith dismissed trying to block an Ed Nuttall yorker, only to slip over and fall LBW.
Nuttall had both wickets in the morning session, but the afternoon belonged to a brisk Sheat who claimed 4-52, with a little help from Henry (2-36) and Todd Astle.
The Stags had resumed the second session at 85/2, but promptly lost Brad Schmulian who edged Henry behind.
Hay formed the beginnings of a new partnership with Tom Bruce who looked in confident touch as they pushed past the 100-mark for just three wickets, a fair effort in the conditions.
Just a handful of overs later, however, the loss of anchorman Hay had the visitors ecstatic. Miscalculating a hook off Sheat, he was caught on 37 – and from there the Stags' ship listed.
Soon 104 for four became 105 for five as Sheat zeroed in on Bruce's pads bringing two new men in Dane Cleaver and Willem Ludick – who had scored his maiden century against Canterbury at this same ground last season – to attempt some restitution.
This time, Ludick lasted just two balls before he thick-edged Sheat to a diving Cam Fletcher in the same over: 105 for six, the pressure falling heavily on Cleaver and Ajaz Patel to avoid exposing a relatively inexperienced lower order that included a debutant in Ben Stoyanoff and a fresh faced Ray Toole, who had debuted in the previous round.
Patel held the fort for almost an hour for his 24, but he'd lost Cleaver at 118 for seven while Rance, optimistic in his approach, slapped two boundaries and a six before perishing caught for a quick 16.
After Astle had Patel stumped, the rookie last pair of Toole and Stoyanoff proved surprisingly stubborn. Stoyanoff streaked his first ball in first-class cricket, an inside edge off Astle, all the way to the boundary; later he gently drove Nuttall for the same result.
Conditions still overcast, Canterbury's reply got off to a rocky start with Rance enticing the edge from Tom Latham in the very first over, Patel safely gathering a low catch at third slip.
With Latham coming off a double century in Wellington, it was a big blow to the visitors to lose both BLACKCAPS batsmen Latham and Henry Nicholls for no score, among four wickets in the final session.
Strapping left-armer Toole made a double breakthrough – accounting for the scoreless Nicholls with a gem of a delivery, while Ludick struck shortly before stumps to stop a bothersome partnership.
In the interim, Stephen Murdoch has settled in for a half century, ending the day unbeaten on 63* and set to take Canterbury into the lead tomorrow, trailing by just 31 at stumps with six wickets in hand.