17 January 2022
Canterbury U19 Women's Recap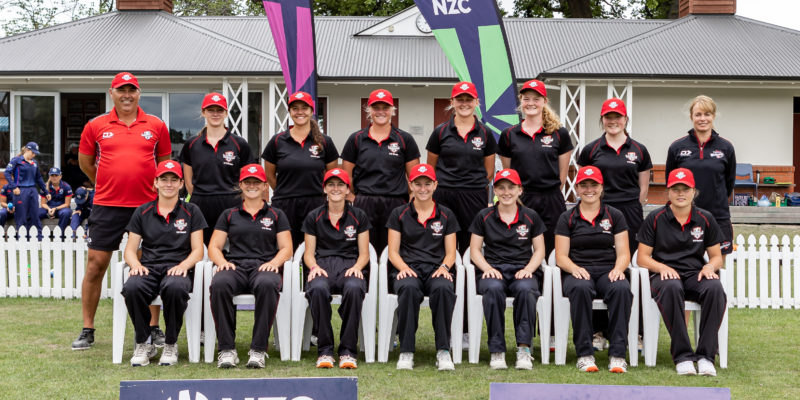 The Canterbury U19 Women finished their National Age-Group tournament with a win against Auckland on Wednesday morning.
Led by Libby Stead, the side had a mixed run of performances in a tournament where seemingly everyone could beat everyone – with last place Northern Districts edging out eventually winners Central Districts early in the tournament.
Right-handed batter Izzy Sharp proved why she has already been selected in a MAGICIAN'S travelling squad, finishing the tournament with 198 runs at an average of 49.5.
Sharp's best performance came in the final game – a T20 against Auckland – which is the format she most prefers – where she scored an unbeaten 66 off 52, carrying her bat after opening for the red and black.
"I love playing T20 cricket – the intention was always to try and bat as far into the innings as I could."
"Kirsty [Bond] has been encouraging me to be patient and wait for the runs to come. It really worked on Wednesday."
"I learnt a lot about my own game. The importance of being able to access all areas of the ground as a batter in white ball cricket is something I want to continue working on moving forward."
Somewhat of a novelty in the women's game, left-handed opening batter Harriet Graham had a great start to her tournament, amassing 137 runs over her first 4 games at an average of 34.25.
Despite a lean finish to the tournament, Graham continues to show her vast potential. Under the tutelage of MAGICIANS Captain Frankie Mackay at Lancaster Park CC and with one more eligible year to play in the U19 grade, this will not be the last we hear from the left-hander.
Speaking of their bowling stocks, head coach and former WHITE FERN Kirsty Bond is singing the praises of the entire bowling unit.
"Everyone played their part at different times. We were lucky to have plenty of options with the ball but Libby's [Stead] 4fer in the final T20 match was certainly a highlight."
With over half of this year's squad being eligible for U19s selection again next season, the proud history of age-group cricket success in Canterbury has every chance of continuing.
Canterbury U19 Women's National Tournament – at a glance.
Game One – One Day Game v Northern Districts | Canterbury won by 19 runs
Canterbury U19 Women 193/9 – Graham 53
Northern Districts U19 Women 174/9 – Stead 2-26
Game Two – One Day Game v Auckland | Auckland won by 8 wickets
Canterbury U19 Women 109 – Graham 33
Auckland U19 Women 110/2 – Lynch 1-12
Game Three – One Day Game v Central Districts |Central Districts won by 134 runs
Central Districts U19 Women 260/9 – Hotton 3-42
Canterbury U19 Women 126 – Sharp 47
Game Four – One Day Match v Wellington | Canterbury won by 3 wickets
Wellington U19 Women 224/9 – Murray 1-20
Canterbury U19 Women – 227/7 – Graham 47
Game Five – One Day Match v Otago | Otago won by 38 runs
Otago U19 Women – 175 – Clayton 3-36
Canterbury U19 Women – 137 – Sharp 39
Game Six – T20 v Auckland | Canterbury won by 25 runs
Canterbury U19 Women 122/7 – Sharp 66*
Auckland U19 Women 97/9 – Stead 4-16
The Canterbury U19 men are underway in their tournament and will be looking to defend their title from last season. Led by Lancaster Park CC's Oscar Curtis, the squad boasts a couple of current Canterbury 'A' squad members in left-handed batter Matt Boyle and right-arm quick Max Hamilton.
Live scoring on the NZC Website