19 February 2019
Canterbury over 60's shine in national tournament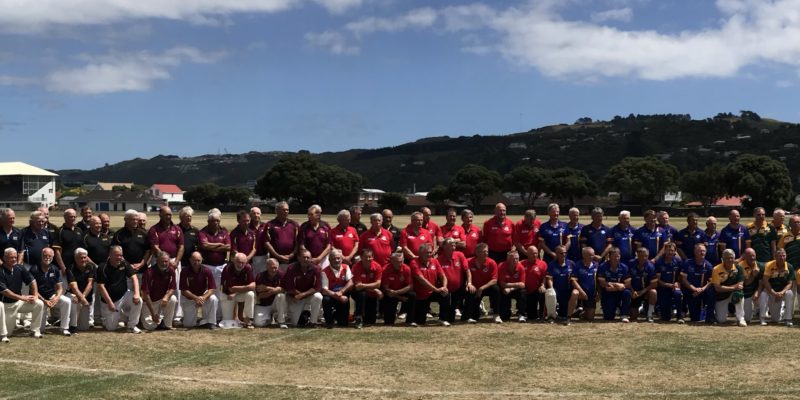 Petone Recreation Ground, Wellington 3rd – 7th February 2019
Report by Phil Harris

The Canterbury Over 60 side selected to play the 4th edition of this event had previously won the title in 2017 and 2018 (the only two times they had entered the tournament) and with what looked like an even stronger squad this year it was no surprise we were expected to perform well again.
The format of the event is that each team plays three other provinces in round robin games, who plays who decided on rankings from the previous year, with the two top sides playing a final.
First up Canterbury played Central Districts, and when Skip Masefield won the toss he had no hesitation in batting first. On the back of our top 3 batsmen all reaching their 40 retired we amassed a very useful 228 runs in our 40 overs. The bowlers then did their job as we restricted CD to 179.
Langrope, Inglis, Harris all 40 retired, Hugh Wright 29 and Langrope 3-14, Ryan 3-31, Masefield 2-31.
Game 2 was against Otago (last year's beaten finalist) in what we expected to be our strongest opposition. However when their captain won the toss and asked us to bat the game was effectively over. Danny Langrope powered to his 40 in very quick time setting up the platform and all that followed kept the momentum going.
We amassed a very impressive 280 in our 40 overs. Our bowlers were tidy again as we strangled the Otago batting line up and they could only manage 165.
Langrope, Harris, Deans, Wilson all 40 retired, Hamish Wright 31 and Gray 1-21.
Game 3 then was against a strong Northern Districts team, and when Bob Masefield won the toss again it was no surprise we batted. Danny Langrope was dominant again opening, supported brilliantly by Hugh Wright with another solid effort from Harris as we posted a competitive 230 in 40 overs. While the ND side had a powerful batting line up we managed to secure vital wickets at crucial times and restricted them to 179; to secure our 3rd straight final appearance.
Langrope, Hugh Wright, Harris all 40 retired, Nuttall 37 and Gray 2-18, Wilson 2-18.
With two teams, Otago and ND, each with two wins there was some delay in announcing that the other finalist would be Northern Districts qualifying by 0.4 of a run on a count-back. So in a repeat of the game just played, we met them in the final to decide the Champion.
We remained confident and kept to our game plan. The Skip won the toss and we batted first. However an injury from the previous day meant Danny Langrope was unable to open the batting so a quick shuffle saw Mike Mehaffey promoted to start with Hugh Wright. Despite this late change both men reached the 40 retired as did Harris at No.3 – a good foundation was laid. ND however stuck to their task, took wickets late in our innings, and we ended on 220 – a score we thought was 10-20 runs light. Still runs on the board in a final are key so it was "game on".
Their opening bat promptly put our opening bowlers to the sword scoring a very fast 40, and in doing so set up ND to be on parity with our scoring rate throughout their innings. Others followed suit. While our slow bowlers, especially Tony Gray and Andrew Nuttall, did a superb job of slowing the run rate with just two overs to go ND only needed 13 runs to win. In our favour they were effectively eight down so whatever happened it was going to be close. Trevor Thornton was charged with bowling the penultimate over which he did with great control and calmness as ND scored just five singles. So 8 to win and 7 to tie off the last over – given to Robbie Deans – a pretty useful guy to have in a real pressure situation.
Their No. 8 drove ball one into a gap to secure two runs but was cleaned bowled next ball to expose their No.11. A single off the next two balls, the second ball being a dropped catch, left them 4 to get off two balls. Robbie bowled a pearler, swing and a miss bringing us to the last ball. 4 required to win or 3 to tie. A big swipe across the line saw the ball fall into a gap at mid-wicket. By the time the throw got to the bowler the batsmen were crossing for a third. Although Robbie could have walked two paces to the wicket and run the batsman out by half the length of the pitch – in the heat of the moment he threw the ball to our keeper Hugh Wright, and despite requiring a jump to collect Robbie's throw, was able to do so and run the batsman out by a metre.
Final score then – 220 v 219. Another title to Canterbury, in a game then none of us will ever forget.
Hugh Wright, Mehaffey, Harris all 40 retired, Nuttall 30 n.o. and Thornton 2-35.
The tournament will be hosted in Christchurch in 2020, with games to be played at Hagley Oval and surrounding grounds. It was due to the excellent efforts of Lance Ryan and the support of CCA that our bid to host was accepted.
The full Canterbury squad as follows, an asterisk (*) represent those selected for the New Zealand squad to play in Adelaide in November 2019:
Robbie Deans*, Tony Gray*, Phil Harris*, Graeme Inglis*, Danny Langrope*, Bob Masefield*, Mike Mehaffey, John Morton, Andrew Nuttall*, Tony Penny, Lance Ryan, Ray Steele, Craig Thiele, Trevor Thornton, Jeremy Wilson, Hamish Wright* and Hugh Wright*.
Congratulations to all involved and to those receiving national selection.