16 February 2021
Canterbury over 60s do it again!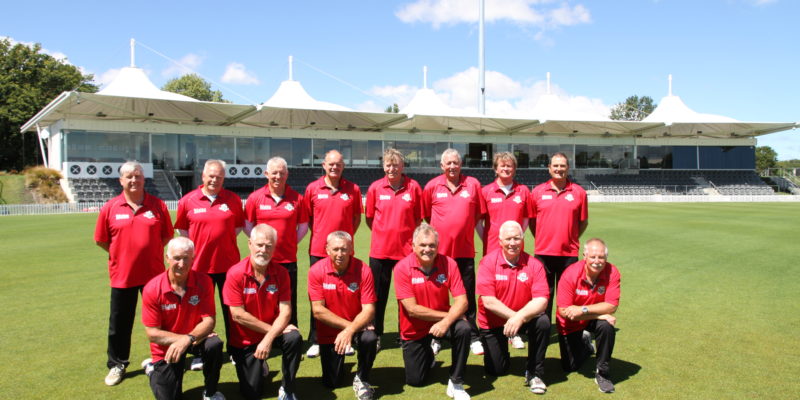 The Canterbury Over 60s team won their fifth consecutive tournament in dominating fashion at the national tournament in Christchurch last week.
Hosting the event at Hagley Park for the second time, the growing sport of Veterans cricket saw the introduction of four new teams competing in a division 2 competition.
The Canterbury team came into the tournament with a proud record having won the previous four titles with 17 wins on the trot.
Round 1 | Canterbury v Otago 
To introduce a rest day in the tournament, teams were encouraged to travel to a nearby association for round 1. This saw Canterbury travel south to Geraldine to host Otago.
Having won the toss and choosing to bat, the Otago top order got off to a brisk start before the Canterbury bowlers managed to strangle their middle and lower order to have the visitors 114 after 40 overs.
Despite losing the opening pair early, Inglis and Drake set up a platform for Canterbury to chase down the target in just 27 overs.
Paul Facoory 40 Ret, Mike Johnston 2-13, Andrew Nuttall 2-24
Graeme Inglis 41Ret, Russell Drake 40 Ret, Bevan Guthrie 1-13
Round 2 | Canterbury v Central Districts
After losing the toss and being sent in to bat on Hagley Oval, openers Mike Johnson (40*) and Michael Mehaffey (38) ensured Canterbury was going to put up a hefty total. Inglis and Drake both retired and some quick lower-order runs saw Canterbury through to 248/4 after 40 overs.
CD opener G Kuggereijn was able to retire at 40 off as many balls supported by M Gunning with 42, but regular wickets saw CD fall short of the target at 162/8 off 34 overs.
Mike Johnston, Graeme Inglis both 40 Ret, Russell Drake 42 Ret (off 33 balls)
Gordon Kuggeleijn 40 Ret, Mark Gunning 42 Ret, Tony Gray 2-14 Mike Johnston 2-17
Round 3 | Canterbury v  Wellington
Both teams came into this clash two from two, and with his first toss win, the Canterbury skipper made no hesitation in choosing to bat first.
A few early wickets had Canterbury in strife at 34/3 before Heathcote duo Harris and Inglis contributed with the bat, both retiring at 40. Russell Drake continued to pile on the runs and continued in his fine form with 40 off just 29 deliveries.  The platform was built, before Danny Langrope showed his skills smashing a 18 ball 45 retired as Canterbury posted 241/6.
Wellington openers Adams and Hill got off to a quick start, but after that, the team really struggled to chase the total as the Canterbury bowling attack ensured they didn't get close – Wellington posting 136/6.
Danny Langrope 45 Ret, Phil Harris & Russell Drake 41 Ret, Graeme Inglis 40 Ret, Kim Price-Moor 2-25
Carl Adams 40 Ret, Tony Gray 2-16, John Morton 2-17
Round 4 | Canterbury v Auckland 
With heavy rain the evening before, the match was delayed until 1.30pm and reduced to 35 overs per side.
With Auckland winning the toss and opting to bowl, the Canterbury batsmen all make good steady progress with 3 of the top 5 scoring 30-runs or more. Jeremy Wilson top-scored for the side retiring on 40* and with a strong performance by the tail, a total of 187/7 was on the board.
Auckland struggled with the bat all afternoon with only two batsmen reaching 30 or more. Tight, economical bowling spells restricted Auckland to just 122 off their 35 overs, 65 runs short of the required target.
Jeremy Wilson 40 Ret, Mike Johnston 35, Suren Surendran 2-36
Mark Bosomworth 39, Graeme Inglis 2-22
Round 5 | Canterbury v Northern Districts 
Canterbury, now 4 from 4 were just one win away from another title and keeping their perfect undefeated record in tact for another year.
Winning the toss and electing to bat, Canterbury took an early wicket, but when ND lost their second is when the innings really imploded. The Canterbury bowling group putting on a clinic performance to bowl Northern Disticts out for a meagre 91-runs.
Mike Johnston and Danny Langrope did some early damage with the ball followed by a deadly spell from Tony Gray of 4-6 off 6 overs.
Canterbury lost an early wicket, but a solid 27 from Ray Steele and 37* and 22* from Inglis and Harris respectively, saw Canterbury home in less than 20 overs.
Tony Gray 4-6, Mike Johnston 2-7, Danny Langrope 2-19
Graeme Inglis 37 no, Ray Steele 27, Noel Ackerman 2-25
Graeme Inglis was the Player of the Tournament amassing 188 runs in his 5 innings with 4 retired or not outs.
Tony Gray was the Bowler of the Tournament taking 10 wickets at 2.28 runs per over.
The Division 2 tournament was also well represented by Canterbury players in a combined South Island team with Otago who went through the week undefeated.
The tournament moves up to Napier in 2022 for another great week of camaraderie, fun, and excellent (if somewhat slower) cricket with great hospitality.