04 November 2021
Canterbury Gallop Home Against Wellington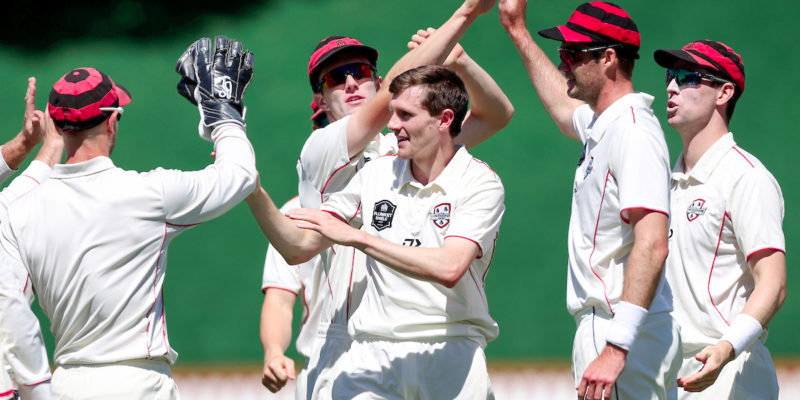 Canterbury bounce back from horror start to record 9th highest win margin against Wellington.
The defending Plunket Shield Champions travelled to the capital this week to take on fierce rivals Wellington in the second game of First-Class cricket for the season. Canterbury lost the toss and were put in on a typically green Wellington wicket – a toss that seemed costly after the first session, with Wellington running rampant on the Canterbury top order, reducing Canterbury to 59-5 at lunch.
With their backs to the wall, BLACKCAP Henry Nicholls and the ever-resilient wicketkeeper bat Cam Fletcher combined for a gritty partnership worth 151 to drag Canterbury to 207-6, before Fletcher and Henry Shipley came together to add a further 89 runs for the 7th wicket.
Spearheaded by Fletcher (110) and Nicholls (97) and supported by Shipley (59) and Matt Henry (43), Canterbury finished with 379-9 declared after 122.3 overs.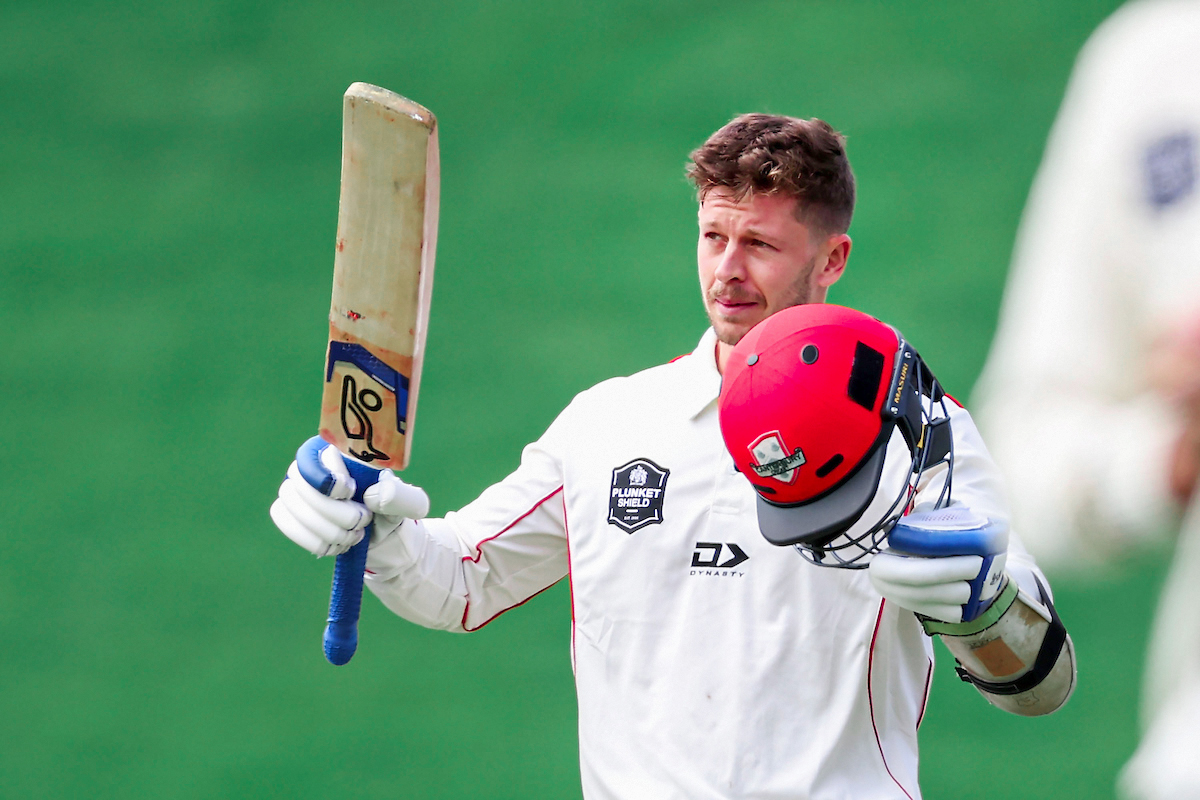 ­­­­Georgeson and Ravindra started Wellington's innings well, compiling nearly 50 between them before Fraser Sheat struck, removing Ravindra for 26 on his way to a 5-wicket-haul. The very next over, allrounder Henry Shipley snicked off Georgeson and both Wellington openers were in the sheds. From there, the Canterbury seamers made full use of the life in the pitch, taking wickets at regular intervals, and not allowing any notable partnerships to flourish. In what was a fantastic advertisement for the merits of District Association, Canterbury Country, all 10 Wellington wickets were taken by Country players (Sheat 5, Shipley 3, Williams 2). The hosts were dismissed for 161 just shy of the 80th over.
With a lead of over 200, Canterbury's opening pair of Latham and Bowes began amassing a seemingly unassailable lead, with Latham scoring his 2nd First-Class century in as many games, and Bowes going agonisingly close with 95. The two combined for a huge partnership of 223, before Bowes was caught off Ravindra. Ken McClure faced a token 5 balls before Canterbury declared, setting Wellington 449 to win.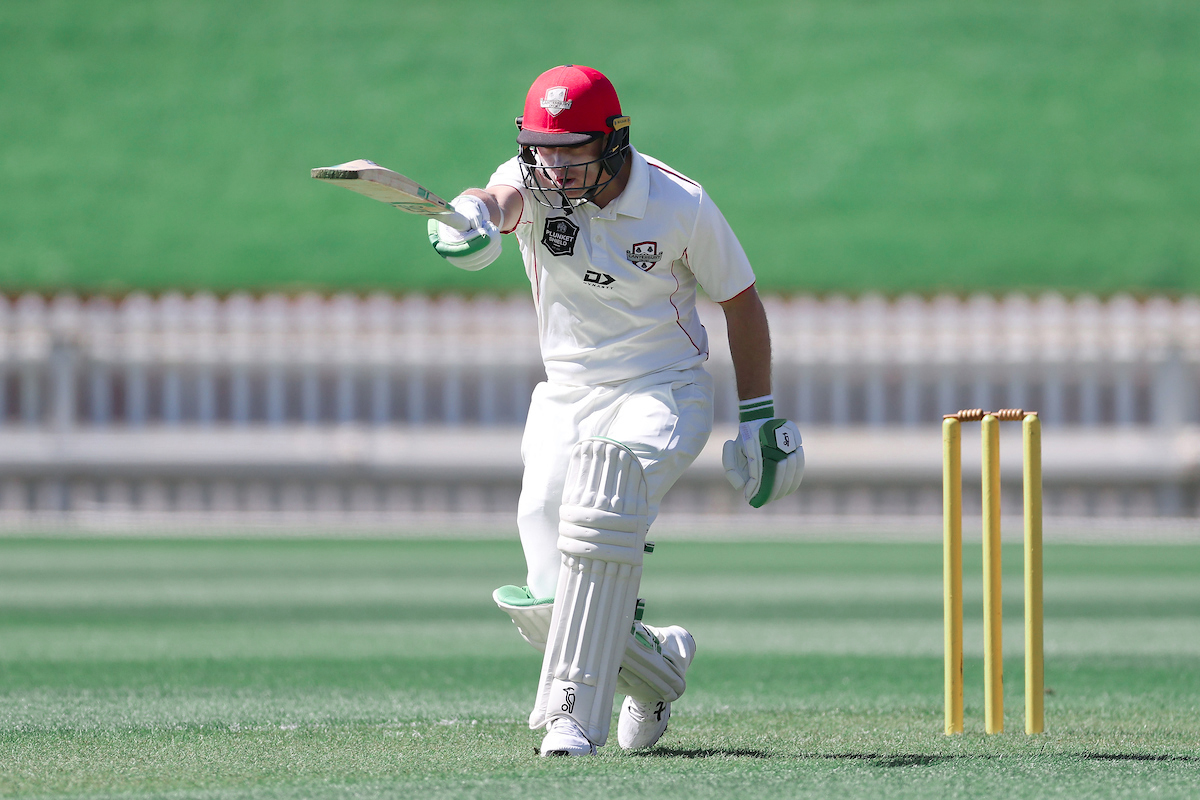 Making full use of the remaining overs at the end of day three, Matt Henry and Will Williams charged in against a staunch Wellington opening pair. Henry drew first blood, squaring up Georgeson who watched the ball catch his outside edge and sail to Henry Nicholls at 2nd slip. Henry Shipley was thrown the ball in the 15th over, who then proceeded to run riot in the setting sun, taking three Wellington wickets for a mere 4 runs off his 6 overs before stumps (the 4 runs coming off an edge through slips from Ravindra).
Day four started with 20 overs of no luck for the Cantabrians, as the BLACKCAPS pair of Blundell and Ravindra grew roots in the Basin pitch in an attempt to salvage the game. It wasn't until the 44th over that Matt Henry trapped Blundell in front who was judged LBW. During his enthusiastic appeal, Matt Henry toppled over in what was one of the moments of the match. WATCH HERE
Ravindra and the hard-hitting Finn Allen occupied the crease for over 25 overs, with Allen feeding off the measured temperament of his partner. Allen was one shot away from a milestone when he inside edged a Cole McConchie delivery onto his pads and watched it roll backwards onto his stumps. Wellington 140-6.
From there, the tail failed to wag, as Matt Henry and Will Williams combined to take the remaining 4 wickets in just 17 balls, winning the game by 294 runs.
Canterbury milestones include centuries from Cam Fletcher and Tom Latham, and a 5 wicket-haul for Fraser Sheat on his debut First-Class match at The Cello Basin Reserve.
Canterbury's next match sees the Magicians hosting the Wellington Blaze this Saturday and Sunday at Mainpower Oval in Rangiora
The men's team will travel back to the capital this weekend to take on Wellington in a repeat of this week's fixture, with the first ball to be bowled on Sunday.