12 December 2019
Canterbury duo selected for Under 19 World Cup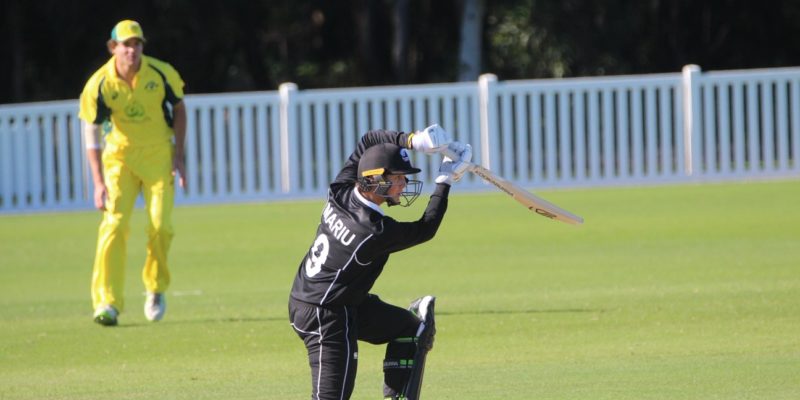 Canterbury under 19s top order batsmen Rhys Mariu (St Andrew's College) and Nic Lidstone (Christ's College) have both been selected in the New Zealand U19 Cricket World Cup squad to travel to South Africa early next year.
New Zealand Under-19 men's coach Paul Wiseman is forecasting a challenging few months ahead for our young cricketers, after naming a 15-strong squad for the ICC Under-19 Cricket World Cup in South Africa early next year.
The squad boasts players from all six Major Associations, and will travel to South Africa for a warm-up tournament starting on January 3, before the World Cup officially starts for them on January 18.
Wiseman is optimistic about his side's chances at the Cup, and is eager to see how it stacks up on the world stage.
"These boys should be proud of their selection in the U19 side but they will know the hard work is ahead of them," said Wiseman.
"We saw how strong the Bangladesh U19 side were that toured here recently, and we're expecting a highly competitive World Cup.
"We're very happy with the squad we've selected and believe the group will give us the best chance of success – but we're under no illusions how tough it's going to be.
"Teams around the world place great emphasis on this World Cup and global stars are often born from it.
"We'll have to be at our best if we want to compete against the best in the world."
After a "highly competitive" U19 National Tournament held in Lincoln over the past two weeks, Wiseman said narrowing the squad down to just 15 names was a unenviable challenge for him and the selection group.
"Naturally there's going to be some disappointed players, but that's just part of cricket. We'll have conversations with those who have missed out and, as has been proven in the past, this is by no means the end of their cricketing journey."
New Zealand Cricket's GM High Performance, Bryan Stronach, said the U19 team was part of the cricketing pathway, as opposed to an end goal in itself.
"Ultimately, from a high performance perspective, this is about growing future BLACKCAPS and selection in this team is just one step on that journey," Stronach said.
Stronach was also keen to point out the valuable lessons and cricketing IQ players can develop from experiencing this type of tournament.
"This is a chance for the group to learn more about themselves as cricketers.
"There will be pressure at certain times throughout their time in South Africa and finding out how they react to that pressure will be valuable learning for their future cricketing endeavours."
New Zealand ICC Under-19 Cricket World Cup squad:
(in alphabetical order)
Jesse Tashkoff (c) – Wellington
Adithya Ashok – Auckland
Kristian Clarke – Northern Districts
Hayden Dickson – Northern Districts
Joey Field – Central Districts
David Hancock – Northern Districts
Simon Keene – Auckland
Fergus Lellman – Northern Districts
Nicholas Lidstone – Canterbury
Rhys Mariu – Canterbury
William O'Rourke – Auckland
Ben Pomare – Northern Districts
Quinn Sunde – Auckland
Beckham Wheeler-Greenall – Otago
Oliver White – Northern Districts
Standby Players:
Angus Sidey – Canterbury
Ryan Jackson – Wellington
Devan Vishvaka – Wellington
Lucas Dasent – Auckland
Tom Dunlop – Canterbury