26 September 2019
Canterbury duo collect WHITE FERNS contracts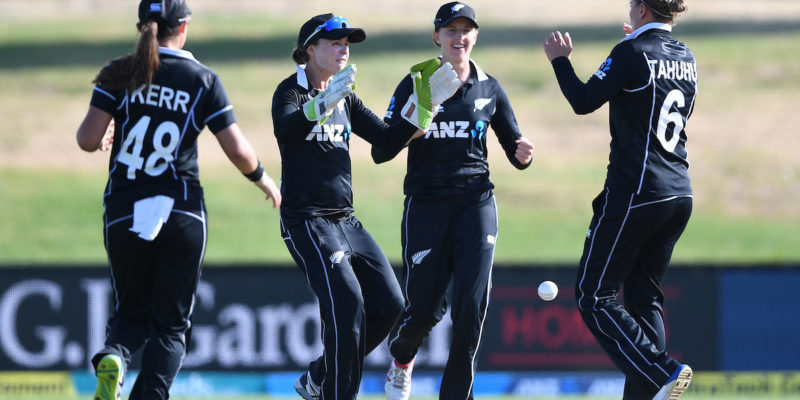 Although she'll soon be handing over the captaincy reigns due to pregnancy, Canterbury's Amy Sattherthwaite and wife Lea Tahuhu have both been offered WHITE FERNS contracts for the 2019/20 season.
Satterthwaite, 32, will take a leave of absence and intends to return to cricket when the time is right, with "an eye" on the next women's World Cup held in New Zealand in 2021.
Under the conditions of the new women's master agreement announced last month, NZC chief executive David White said Satterthwaite would be entitled to full pay without the obligation of training or playing. As such, she will be the first player to benefit from the new pregnancy leave provisions included in the new agreement.
WHITE FERNS coach Bob Carter said he was looking forward to working with the team and making improvements where he can.
"It's great to be involved with the WHITE FERNS and see who will put their hand up and demand selection over the coming months," Carter said.
"It's a big few months ahead as we look forward to the South Africa series here in New Zealand, then the ICC T20 World Cup in Australia next year."
Carter also thinks the blend of youth and experience within the squad will create a healthy competition for places in the starting XI.
"Competition within a team is most certainly a positive for the environment. It's natural when you have professional athletes wanting to improve and play for their country.
"The new Master Agreement gives us coaches more face-to-face time with players which can only serve to improve skills and create a positive team culture."
Head of High Performance, Bryan Stronach, said he is already seeing the benefits of offering an additional two contracts to WHITE FERNS players this season.
"This is all part of our commitment to our High Performance teams and giving them the best chance to perform and compete at the highest international level.
The WHITE FERNS are currently at a winter training camp at the NZC High Performance Centre in Lincoln which runs through to Wednesday October 2.
WHITE FERNS contract list in alphabetical order: 
Suzie Bates (Otago Sparks)
Bernadine Bezuidenhout (Northern Spirit)
Sophie Devine (Wellington Blaze)
Lauren Down (Auckland Hearts)
Maddy Green (Wellington Blaze)
Holly Huddleston (Auckland Hearts)
Hayley Jensen (Otago Sparks)
Leigh Kasperek (Wellington Blaze)
Amelia Kerr (Wellington Blaze)
Rosemary Mair (Central Hinds)
Katey Martin (Otago Sparks)
Katie Perkins (Auckland Hearts)
Anna Peterson (Auckland Hearts)
Rachel Priest (Wellington Blaze)
Hannah Rowe (Central Hinds)
Amy Satterthwaite (Canterbury Magicians)
Lea Tahuhu (Canterbury Magicians)