13 January 2020
Canterbury crowned NZ U17 champions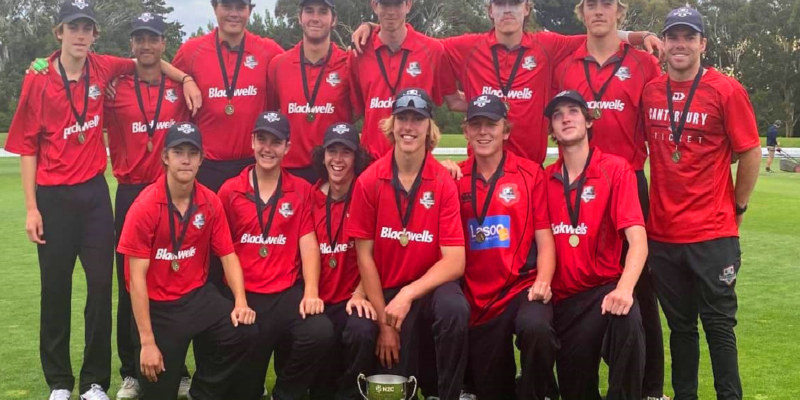 ROUND FIVE

Otago Under-17 beat Canterbury Under-17 by 2 wickets
Canterbury U17 already had the tournament in the bag by the time captain Matt Boyle won the toss and batted against Otago in their final 50-over match, but the locals would be handed their first defeat in a thriller to close out an exciting week of age-group clashes.
On the personal front, Boyle ensured he capped a successful week in real style, producing a big ton – 144 off 128 balls, including 16 boundaries and five sixes – to finish as one of the tournament's top 10 runscorers.
He reached three figures off just 106 rocks, sharing a century stand with Scott Jannett (34) as he otherwise almost single-handedly propelled his side towards a position where they could kick on to a total of 316.
Opener Boyle finally departed in the 39th over at 232/6, and a quick 32 from Tom Flavell ensured they got up over the 300-mark before being dismissed with three balls left.
Boyle's dominance masked a good effort by Otago with the ball against his teammates, Toby Hart picking up 4-47 and captain Jacob Cumming finishing it off with 3-39.
That last-over strike was to prove crucial.
Cumming and Xavier Chisholm got the Otago reply off to the desired solid start with a 76-run opening partnership, before that man Boyle bowled Chisholm on 28.
Cumming was on the cusp of reaching a half century at a good clip before he was thwarted by Stan Ashwin, but first drop Jacob Murray played an important hand after his loss in just the 13th over, when 82/2 became 83/3 in the space of five balls.
Murray went on to a score of 72 off 69, taking his side past the 30-over mark before he was caught at 198 for four.
It was the start of a real fightback with the ball from Jordy Frew (4-50 off eight) but an equally gallant effort from the Otago lower order who found runs and formed partnerships to keep themselves in the hunt.
Canterbury temporarily gained the ascendancy towards the death, but a 55-run stand for the seventh between Finn Hurley (41) and Aaron Hart (26*) had proved niggly.
Down to the final over, now Otago still needed 10 to win but a smorgasbord of byes, leg byes and a wide helped their cause in the tight situation.
Otago needed two to win off the final ball, but Alex Wilson got the ball to the fence instead for a clutch two-wicket win to finish proceedings for another year on Bert Sutcliffe Oval.
ROUND FOUR
Canterbury Under-17 beat Auckland Under-17 by 8 wickets
Canterbury U17 extended its lead at the top of the points ladder with a third one-day win on the trot.
Auckland elected to bat first, but washed up on the low side of a defendable total on the boutique ground after having been dimissed for 184 with almost 10 overs unutilised.
Number four batsman Brodie Harrison's run-a-ball 77 stood out like a beacon as Canterbury ripped through the rest of the line-up, Jordy Frew (3-38) and Reuben Stoffers (3-12) taking care of the middle and lower order while Cam Paul picked up a brace after helping get the Aucklanders three down in just the 13th over.
Harrison batted into the 39th over in a gallant attempt to get his side to a defendable total, but Canterbury would barely raise a sweat as they chased down their target with a whopping 26.1 overs to spare.
Canterbury opener Matt Boyle just dipped out on a half century after he had raced to 47 off just 37 balls, including seven boundaries and two sixes.
He had shared a 100-run stand for the first wicket with partner Kalhun Challu who continued his good form with an unbeaten 77* off just 65 balls.
Elias Falanitule picked up both wickets in the chase, but against an offensive attack with the bat it was a fruitless cause. Canterbury's Mackenzie Smith was unbeaten on 31* when Challu hit the winning runs.
ROUND THREE
Canterbury Under-17 beat Wellington Under-17 by 85 runs
Canterbury U17 made it two from two in the 50-over matches with a solid 85-run win in a top of the table contest against Wellington.
Sent in, Canterbury didn't get a good start at all with the bat, but their lower order came to the party with a maginificent unbroken 170-run stand for the seventh wicket between Mitch McMillan (89* off 80) and Tom Flavell (78* off 88) that got Canterbury up to a total of 251 for six.
At 81 for six, that kind of tally on the scoreboard would have looked like a mirage, or at the least a distant landmark.
After Lachie Bailey had got Canterbury skipper Matt Boyle for a diamond duck (first ball of the match), Elliot Seddon had ripped through the rest of the red and black top and middle order to net himself a five-wicket bag by just the 24th over.
Batting at seven and eight, the unbeaten pair batted for 26.3 overs to frustrate Wellington, then did their bit in the field as Canterbury made quick in-roads with the ball to defend the total.
Will Anderson struck in his first over with McMillan taking the grab to dismiss Peter Bonar for no score, with first drop Sam Morgan following him back next over at 2-3.
Captain Sam French held on for 30, which unfortunately for Wellington would prove the equal top score for their side alongside Oscar Jackson as they struggled to build partnerships against a fired up red and black attack.
Wellington was dismissed for 166, well short in the 46th over with Boyle brightening up his day with a handy 3-36.
ROUND TWO
Canterbury Under-17 beat ND Under-17 by 59 runs
Canterbury U17 chalked up their first win at Nationals with a good win over ND as the one-day phase kicked off in fine, sunny conditions at Lincoln.
Captain Matt Boyle elected to bat but was an early loss as Shiv Achary struck in the seventh over.
Kalhun Challu continued his solid form, however, with a knock of 89 off 100 balls to anchor Canterbury towards a good total of 290 for seven.
The opener batted through until the 39th over, top-scoring again with support from Ollie Curtis (33), Mitch McMillan (57) and Tom Flavell (37) down the order.
Curtis was in the action early during the reply, running out ND opener Nathan Condon in just the third over but Wilton kicked on to 48 before he was trapped by Boyle at 85 for two.
Captain Jacob Parker and Niven Dovey combined in the pivotal stand for ND, compiling 93 together for the third wicket.
But when Max Hamilton had Dovey caught on 59, it set off the clatter of three quick wickets – with Parker also heading back to the tent when Curtis (2-25) stopped him on 67, the score now 216 for six with fewer than eight overs in hand to get up.
Canterbury kept the heat on, dismissing ND early in the 46th over to seal their 59-run win.
ROUND ONE
Runs in the family? The opening-round line-ups between Canterbury and CD at this year's Under 17 Nationals featured a string of cricketers whose mothers or fathers had played first-class or international cricket, on both sides of the scorecard.
CD's Toby Findlay is the son of former Central Stag Craig Findlay. Young Canterbury run machine Matt Boyle is the latest in a dynasty of Canterbury's batting Boyles as a son of Justin, brother of Jack and nephew of David. Robbie Frew is the son of former WHITE FERN Lisa Astle, son of fellow former Canterbury rep Robbie Frew and nephew of Nathan Astle. Thomas Flavell's mother is Kirsty Bond, former WHITE FERN and national selector. Mitch McMillan's dad Craig needs little introduction either.
Canterbury captain Boyle won the toss and sent CD in but, despite an early wicket, CD eventually settled in thanks to a brisk, 113-run fifth-wicket partnership between Findlay and Baylee Foote.
CD's James Rawnsley
The pair had started their work together before lunch at 101 for four.
Findlay reached his half century off 61 balls, including three sixes and six boundaries, the second half ton of the CD innings after opener James Rawnsley's patient 52 across the first 35 overs.
Foote would go to top-score with 95 after Findlay was caught and bowled by Stan Ashwin on 69 at 214 for five, the duo having stabilised an innings that would kick on to 343 for nine at Curtis Heaphy's declaration.
Will Anderson and Ollie Curtis picked up three wickets each off their 16 overs, before Canterbury went to stumps at 50 for one in reply.
Boyle had been a big early wicket but his opening partner Kalhun Challau dug in for more than four and a half hours at the crease to underpin the Canterbury response, dominating a 121-run stand for the second wicket with Mackenzie Smith.
Challau's century arrived off 142 balls, including 18 boundaries and a six, Canterbury reaching 174 for three by lunch on the second day.
He was eventually caught on 139, but Canterbury wasn't done making CD run around in the field.
Flavell (33) and McMillan (86*) combined for a 43-stand, then McMillan carried on with Frew for a 46-run stand for the eighth wicket and dominated a 41-stand for the 10th to take Canterbury to a 34-run lead.
With 13 boundaries and two sixes, McMillan's knock had been bright and breezy before the last man fell at 377 in the last session.
Central's openers Rawnsley and Finn Raxworthy (42* off just 27) batted out the remainder of the day before the captains shook hands for the draw. The next round (one-dayers) begins on Tuesday.