14 November 2020
Round 4 ends in a draw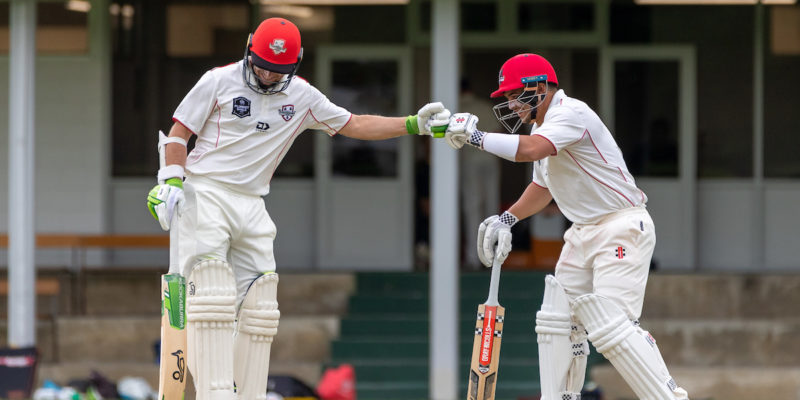 DAY FOUR
Canterbury entered the final day of Plunket Shield cricket for the year 2020 in the box seat and looking to secure a near-perfect start to 2020/21.
The unbeaten championship leaders were in sight of clear air at the top of the table, with a chance to make a real statement to the tune of four big victories by the midway mark, before the coming recess for white-ball cricket until March.
By lunch, they had the Otago Volts 222/6, and the southerners were still trailing by 109 in the second innings. But it was not all about to go Canterbury's way, this time.
Standing in Canterbury's way to begin with was Otago captain Hamish Rutherford who had pieced together his unbeaten 64* at the lunch break from a stoic 4.3 hours in the middle.
He had lost valuable partners in the morning session, however. Nathan Smith was stopped on 23 by Daryl Mitchell and then, after an hour and a half buying some more time, Michael Rippon's start was nipped off by Will Williams.
Rutherford held the key for his side, and he found further support in young keeper-batsman Max Chu who joined him for a further 28 runs, before disaster struck the visitors in the form of Mitchell claiming his fourth wicket.
Rutherford ambled back to the sheds after a gutsy 72, after almost five hours fighting for his side's dignity.
Just four overs later, Mitchell struck again – trapping Jacob Duffy for the allrounder's long-awaited maiden first-class wicket bag.
View this post on Instagram
Now it was 246/8, still trailing, still in dangerous territory, just a couple of good shouts from an innings defeat, and 85 runs away from making Canterbury bat again.
But Chu showed mettle. Occupying the crease, he anchored a spirited ninth wicket stand with a more free-scoring Travis Muller.
By tea Muller was unbeaten on 37* and Chu still 22*, just 38 runs behind now. Then Muller took his side past 300 and a 50-stand, prompting captain McConchie to call back Mitchell and the quick Fraser Sheat.
Chu responded by breaking out, with a two. Their stand grew to 58, Muller equalling his first-class career best of 48. But there it ended for the stand, Muller falling at 304/9 as the Canterbury captain finally broke up the tailend show.
With the clock approaching 5PM, now the last pair tried to hold on. They did an excellent job of it. Chu just didn't let go, and he inspired the same kind of fortitude in last man Michael Rae.
Chu scored an unbeaten 41 – just one run below his career best effort, but moreover he faced 230 balls. Rae batted 112 minutes for his 13*. With the last hour having been taken, they just wouldn't go away. They even took thier side into the lead.
Finally, the batsmen could breathe a sigh of relief. The job was done. The captains had shaken hands. The blue and gold pride was intact, a draw, and a remarkable one at that.
DAY THREE
After a morning of no play thanks to a swoop of rain, the match eventually resumed after lunch in Alexandraa to allow Canterbury to add a further 75 runs to their first innings, before captain Cole McConchie declared at a firm 499/7 – ever so close to the Molyneux Park first-class ground record of 511/6 declared, set by the Central Stags two seasons ago.
The Volts now had to muster 331 in response simply to avoid an innings defeat, with 330 having been their best effort of the season to date.
By tea, they had made a sound beginning, Anaru Kitchen leading the way with 45* at 69 for no loss.
Four wickets tumbled in the final session however to put a few more dents in the home side's scorebook. Kitchen reached a half century before Daryl Mitchell claimed both opening batsmen, and in between spinner Theo van Woerkom accounted for the in-form Dale Phillips early to have the Volts 93/3.
Captain Hamish Rutherford dug in for the last period of play but lost Nick Kelly at 124/4. His side will resume at 157/4, still trailing Canterbury by a heavy 174 runs heading into the final morning.
DAY TWO
A meaty fifth first-class century for Canterbury's Ken McClure was the highlight for the red and black visitors as they powered into a strong position.
By stumps, Canterbury held a 256-run lead over the Volts and, with six wickets still in hand, were setting themselves up for yet another potential innings result.
McClure (165) batted for almost seven and a half hours, and shared century stands with both Tom Latham (63) and Henry Nicholls (87) for the first two wickets.
View this post on Instagram
McClure's ton came up after lunch – by which time Canterbury was a solid 213/1 – off 196 balls, in 276 minutes with 10 boundaries and a six; and he just kept going.
It was only Nicholls' demise that prevented the second wicket ticking over to 200, Travis Muller ending their profitable partnership on 198 when he ripped one through Nicholls' castle, when the BLACKCAP was just 13 shy of a ton in his first innings of the season.
After McClure's wicket finally fell in the last session, Canterbury kept slathering on the runs with Daryl Mitchell and Leo Carter to resume a 30-run stand on the third morning.
DAY ONE
Canterbury headed into the midway mark of the Plunket Shield championship hissing like a train at the top of the table. Would it remain advantage red and black in the last round before Christmas?
Despite losing the toss in a Central Otago southern derby, it didn't take long for the unbeaten competition leaders to assert their authority. Both sides were coming off a win, but it wasn't the Volts' day as they finally played their first day at home for the 2020/21 season, in their high summer haven of Alexandra.
It was the first Plunket Shield fixture at the ground in two seasons, but seven wickets before lunch put the hosts on the back foot inside a session.
Will Williams continued his early season wicket-taking ways by snapping up an early brace of openers, before quicks Ed Nuttall (3-42, below) and Fraser Sheat (3-48) combined forces to rip through the meat of the Otago order.
Batting at five, Nick Kelly was still there at lunch, and ground out an even half century before becoming Nuttall's third victim.
The Volts had been 85 for seven at the break, and a score in three figures seemed a long way off before Kelly and Jacob Duffy (43) put on 45 for the eighth wicket.
Duffy kept going, playing positively and helped ensure his side mustered at least 168 before Theo van Woerkom finished them off on the stroke of tea.
View this post on Instagram

Canterbury then put on 96 without loss before bad light interrupted, just to cap off the hosts' day.