16 November 2019
Ball change for Canterbury Men this weekend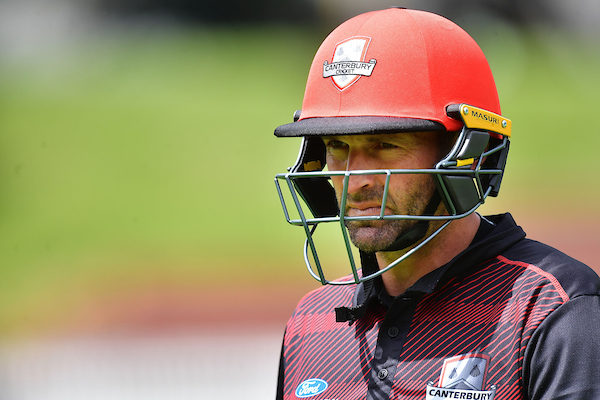 After three rounds of the red ball Plunket Shield cricket, the focus now switches to the shorter 50 over Ford Trophy competition with Canterbury taking on the Central Stags in Palmerston North on Sunday.
Whilst last year's Ford Trophy results were not in Canterbury's favour, Head Coach Brendon Donkers believes that the playing group learnt a lot from last season and has worked hard to play their own style of cricket and to recognise and perform in the key moments.
"We can prepare all you want in the nets but it's about understanding and recognising the key moments and accepting it for what it is and enjoying it along the way. We know we have the players and the method to be successful in this format and the learnings that we took from last year are going to be crucial to our success".
It's a quick turnaround from Plunket Shield into the Ford Trophy but Donkers believes that the Canterbury Men have the team to produce the results.
"There is always a level of excitement in the group when we transition into white ball cricket and I know the guys will be keen to showcase the work they have been doing throughout the winter".
Andrew Ellis returns to the side and his experience will be key with both bat and ball whilst Ed Nuttall, who missed last year's Ford Trophy due to injury, will be play an important role to the team's success with the new ball. Opener Chad Bowes and wicket keeper Cam Fletcher will also play a key role in leading the team alongside captain Cole McConchie.
Canterbury will be on the road for the first two rounds of the competition before coming back to Christchurch for three games in five days at Hagley Oval.
Canterbury v Central Stags | Fitzherbert Park, Palmerston North | Sunday 17th Nov
Canterbury Men's Squad
Cole McConchie (c)
Chad Bowes
Jack Boyle
Andrew Ellis
Cameron Fletcher
Andrew Hazeldine
Ken McClure
Steve Murdoch
Ed Nuttall
Henry Shipley
Theo van Woerkom
Will Williams
12th man to be named at the toss
Follow live scoring at scoring.nzc.nz of follow on the NZC App.