17 February 2020
Australian Police visit Christchurch with two special guests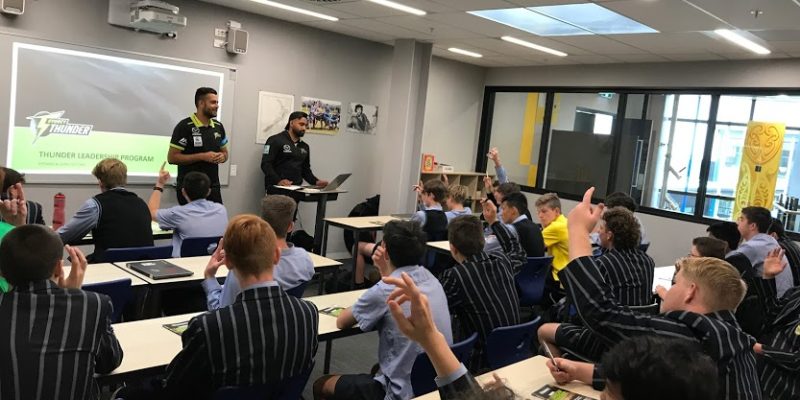 Over Waitangi weekend Christchurch was fortunate to be able to play host to a group of Australia Federal Police (AFP) who came over for a cricket tour against the New Zealand Police and Christchurch Muslim Community team. Traveling with the AFP were Nasir Shinwari and Hameed Kherkhah, both of whom are on rookie contracts with the Sydney Thunder franchise.
During their stay Hameed and Nazir delivered a Thunder leadership program to Shirley Boys' High School and bunch of keen young cricketers from North West Cricket. Through theory workshops, practical cricket sessions and real-life leadership opportunities, the Thunder Leadership Program helps to develop and empower young leaders.
Following on from their first session at Shirley Boys', Canterbury Cricket gave Hameed and Nazir a taste of Christchurch life where we visited the surf beach of Sumner (it's no Bondi), followed by a tour of Hagley Oval in the afternoon.
Saturday saw Hameed and Nazir have a free day where they could essentially be tourists for the day, or at least that was the plan… That changed quickly when Marist Harewood Cricket Club offered the Thunder duo the opportunity to play some cricket in Christchurch.
Hameed and Nazir got their debut wickets in New Zealand with Nazir claiming the better figures of 2 for 52 off his 14 overs. However, Hameed's figures weren't too far off Nazir's with 1 wicket for 52 runs off his 20 overs. Unfortunately for Hameed he ended up having seven catches dropped off his bowling…
With a warmup match now under their belts, it was time for the big one. The Australian Federal Police against the Christchurch Muslim Cricket team at Redwood Park. Canterbury Cricket joined the party during the day and delivered a coaching clinic to forty young and eager kids. Throughout the two-hour long session, participants worked on batting & bowling technique as well as their fielding along with a few other modified games. As for the game of cricket being played the Christchurch Muslim Cricket Team walked away with the trophy chasing down AFP's 143 in their 20 overs, with Muhammad Ali earning player of the game with an unbeaten 77.