24 February 2020
Another day, another Mackay century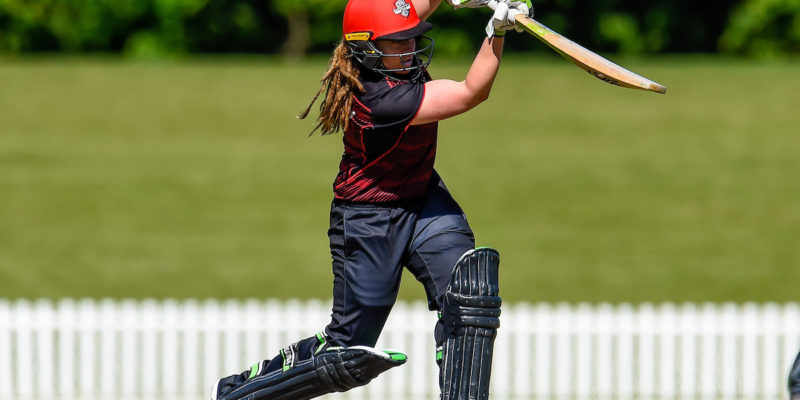 Frankie Mackay was not giving up without a fight — doing everything she could to keep her team's slender hopes of a Hallyburton Johnstone Shield Final alive.
The previous day's weather-hit round had seen her Magicians nail one of the two bonus points they had needed from the last weekend to have a chance of edging the Auckland Hearts on the table. Mackay had won the toss, bowled, and held the Hinds to a gettable total at Pukekura Park.
Now, on Sunday, the Canterbury skipper had lost the toss and been the one sent in, in another reduced match. This time it was just a prune to 48 overs per side, however, after a ground delay. A big knock was needed.
Fast forward to the 43rd over and there's Mackay raising her bat again with a single off Jess Watkin: her 12th Hallyburton Johnstone Shield century, in what was so very nearly a new opening record stand.
Just five balls earlier in the same over, opening partner Ella Chandler (57) had been run out to close the opening partnership at 177 — just shy of the Canterbury 181 record which Mackay has set with Amy Satterthwaite against the Sparks at Hagley Oval in 2015/16.
The Hampshire player had just reached her third one-day half century, just one shy of a career best. Mackay's century then arrived off 131 balls (11 x 4), the second 50 in just 43 balls as she lifted the rate in the run home.
One of the prettiest grounds I've played at this weekend! Pleasure to hold a first wicket stand of 177 with @FrankieMac71 today ???? https://t.co/EQwX18di5D pic.twitter.com/y8ZshI3gMR

— Ella Chandler (@ellachandler19) February 23, 2020
However, Chandler's dismissal off van Deventer's arm triggered a flurry of four wickets. After almost three hours of fruitless wicket-hunting, Hannah Rowe had Nat Cox caught the very next over by 16-year-old Ashtuti Kumar on her women's List A debut for the Hinds.
Van Deventer swooped in again off Watkin's next over to run out Jacinta Savage, then Rowe (2-32) finally took the big wicket of Mackay the over after that – caught by Melissa Hansen on 107.
But at 192 for four, Mackay had done her job — and in the last few minutes of it, overtaken Suzie Bates as New Zealand's second highest run-scorer in Domestic women's one-dayers, and the highest run-scorer for a single team in New Zealand women's cricket.
HALLYBURTON JOHNSTONE SHIELD
MOST CAREER RUNS
4552 SARA McGLASHAN (Central Hinds and Auckland Hearts)
4333 FRANCES MACKAY (Canterbury Magicians)
4330 SUZIE BATES (Otago Sparks)
4226 AMY SATTHERTHWAITE (Canterbury Magicians)
Deposed champions the Hinds meanwhile would face chasing down 213 at 4.42 per over to end their Shield campaign on a positive note, and a fast 50 from Jess Watkin inside the first 15 overs set them on course.
Mackay herself put a stop to Watkin, bowling the Hinds power hitter after an even half century. Natalie Dodd was set, however, and reached her own milestone off 81 balls (6×4) to stabilise the run chase.
The Magicians needed to keep fighting for the bonus point, especially as news filtered through that the Hearts had been beaten in Hamilton – leaving open the chance of making the Grand Final.
They needed wickets. The classy and composed Dodd was in charge in the middle for the hosts, but she began to lose partners in quick succession – van Deventer caught off Gabby Sullivan and Kerry Tomlinson caught and bowled by Missy Banks to suddenly have the Hinds 134 for three.
Could the collapse continue, and quickly enough?
With 15 overs to go and Dodd still in the middle with experienced international allrounder Hannah Rowe, the Hinds meanwhile needed 66 off the last 15 overs at an RPO of 4.4 per, seven still in hand.
Time was running out. And it did, as the Hinds stayed in control of the chase and cruised past the crucial juncture that would mean a bonus point was no longer on the table for the Magicians, regardless of the outcome.
Dodd would bring it home for the hosts, batting throughout the innings to finish unbeaten on 86*.
Staying calm despite losing a few partners, Dodd fittingly tapping the final single off Jess Simmons (3-35) to clinch the last hurrah with three balls to spare.
Mackay finished the regular season as both the Hallyburton Johnstone Shield's top run-scorer (569 runs at a brilliant 92.40 average) and third-highest wicket-taker (13 wickets).