18 November 2019
All-Round Mackay Magic in 100th Match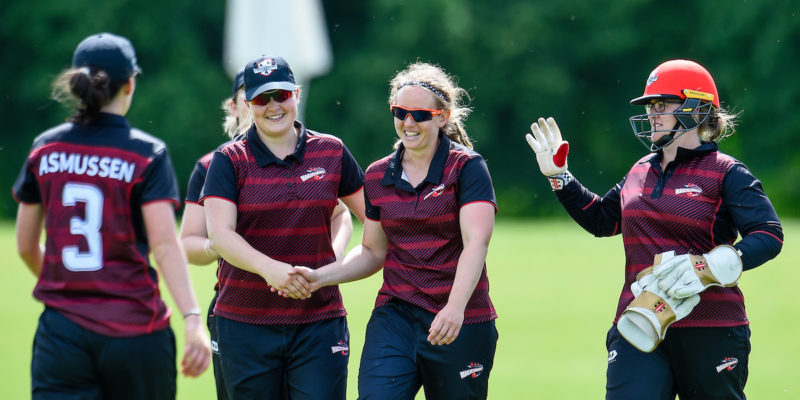 Red and black all her career, Frankie Mackay's 100th game for her team deserved a win, this time – and she got it, turning the tables on Northern Spirit to square the ledger from the opening weekend of one-day Hallyburton Johnstone Shield action.
Sent in by the Spirit, captain Mackay led from the front with bat and ball, getting her side off to a healthy start with a top score of 75 off 102 balls.
She batted into the 32nd over before hopes of a magic hundred in the hundredth game – having scored a ton just yesterday in the losing effort – were dashed as she became the third wicket at 153 for three.
The platform was by now solidly constructed, however, and enabled her teammates to play with freedom – Missy Banks blasting her unbeaten 21* off just 14 balls.
The hosts reached 234 for eight in their full 50 overs, Northern Spirit's Eimear Richardson claiming 4-59 off her 10.
Yesterday's centurion Katie Gurrey loomed as the key threat in the chase. The in-form Spirit opener was looking on again, racing to 83 off just 79 balls before she was caught of Sarah Asmussen in the 27th over.
With Bernadine Bezuidenhout (52 off 73) Gurrey had helped slather on 125 runs for the first wicket, but with Bezuidenhout already back in the sheds it was a big double breakthrough for the hosts.
Mckay had claimed Bezuidenhout caught, and it was the start of a field day with the ball as she ripped through to a haul of 4-20 off her 10 overs, including two maidens.
She was ably assisted by Jacinta Savage who turned in four for 41 off her nine, before Gabby Sullivan wrapped up the last wicket in the 46th over to stop either teammate reaching a five-for.
Spirit had crumbled after the two WHITE FERNS openers had departed at 145 for two, finishing all out for 205.