15 November 2019
100 not out for Frankie Mackay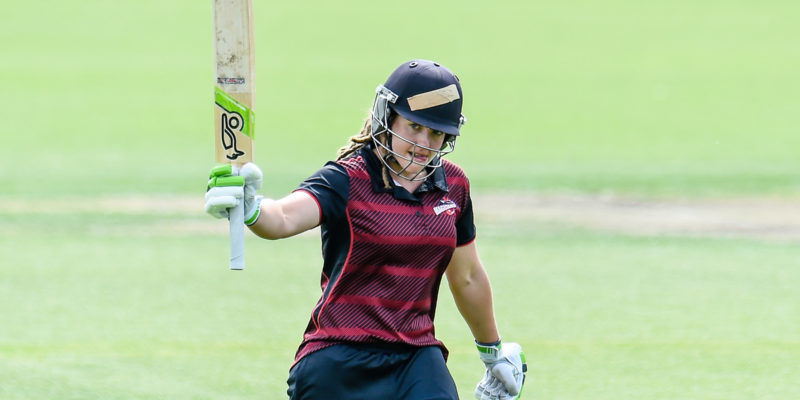 Magicians skipper Frankie Mackay is set to bring up three figures when she notches up her 100th One Day appearance for Canterbury on Sunday in the Hallyburton Johnstone Shield match against the Northern Spirit at Hagley Oval.
Mackay will become just the fourth Cantabrian to reach the milestone, joining the likes of Haidee Tiffen, Amy Sattherthwaite and Erin Bermingham.
After making her debut for the Canterbury Magicians in the 2007/08 season, Mackay has been a key figure within the Magicians squad scoring 4026 runs, including 8 centuries, and taking 141 wickets with her off-spin bowling. Last season she was one of the star performers, scoring 452 runs with a highest score of 140 in her 6 appearances, earning her recall into the WHITE FERNS squad.
Although joyous, Mackay is not getting ahead of herself this weekend.
"After what happened last season, getting injured and not quite making it, I'm hoping to get through the 99 on Saturday first".
"It's pretty exciting and it will be nice to have the opportunity to bring it up here in Christchurch in front of friends and family".
"It's a small club and I know it's a big deal to get to a hundred and join those girls (before me), so no doubt on Sunday there will be a bit of emotion floating around".
Looking back over the years, Mackay said there were plenty of moments worth cherishing.
"When you get to these milestones, you sit down and think about stuff that's happened over the 100 games".
"My first game is still very fresh in my memory and feels like it was just a couple of weeks ago. My first century stands out, my first five wicket bag and of course some of the titles along the way".
Playing her 13th season for Canterbury, Mackay says the standard of cricket is the most noticeable difference in the women's game.
"Back then (2007/08), you could score 120 in a T20 and 200 in a One Day and you'd be in the game. Now to see teams regularly scoring 250 – 300 says a lot about the quality of women's domestic cricket".
"We're now playing on TV and that's something I honestly never thought I'd see happen. To be able to play on the best grounds and on the best wickets in the country, it's pretty cool to see where the women's game has got to".
Mackay is an integral part of the Magician's squad, particularly with WHITE FERNS Captain and Canterbury teammate, Amy Satterthwaite away on maternity leave. Coach Ben Rapson was full of praise and support when asked about Mackay's 100th appearance.
"She's the kind of player you can't replace overnight. It's not just the runs and wickets that she adds to the team, but also her experience and leadership is extremely valuable. It's a fabulous achievement to reach her 100th appearance and I know the girls will do her proud this weekend".
Canterbury Magicians v Northern Spirit| Hagley Oval, Christchurch | Sat 16 and Sun 17 November
Canterbury Magicians Squad
Frankie Mackay (c)
Sarah Asmussen
Missy Banks
Ella Chandler
Nat Cox
Abby Gerken
Laura Hughes
Emma Kench
Eliza McIntosh
Kirsty Nation
Jacinta Savage
Jess Simmons
Gabby Sullivan
12th & 13th to be named at the toss
Live scoring at scoring.nzc.nz of follow on the NZC App.