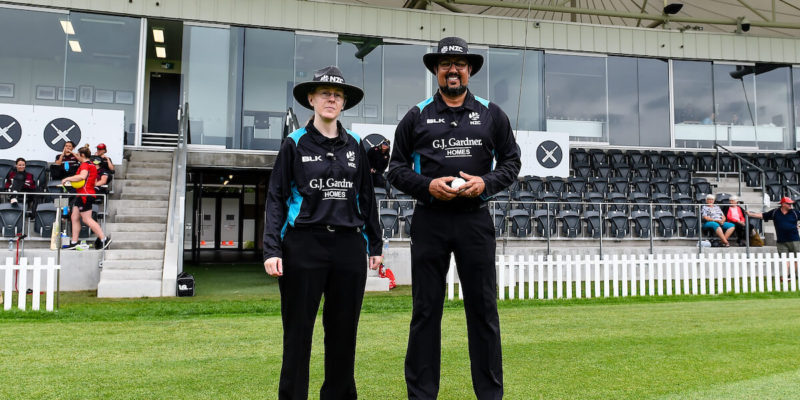 BECOME AN

UMPIRE OR SCORER

Have you always watched cricket from the boundary or on TV and made those crucial decisions, why not back that up by becoming an umpire or scorer and learning the "Laws of Cricket" or "How to score" Remember, a game of cricket cannot happen without the third team on the field.

So if you are interested, use the contact details below and make your first great decision this summer.

Eugene Sanders – Match Officials Coordinator
esanders@canterburycricket.org.nz – 021 778051
MCC Laws of Cricket
Explore the Laws of Cricket Current changes to the Laws Sign up to E-Learning (highly recommended) Mobile App download (IOS & Android) Animations on the Laws of Cricket
NZC Resources
NZC Playing conditions Code of Conduct Helmet Policy Concussion Policy Anti-Corruption Code Christchurch Metro Cricket – Club Cricket Playing Conditions handbook
Test your abilities
https://www.telegraph.co.uk/cricket/umpire-challenge/ https://www.thetimes.co.uk/article/cricket-umpire-lbw-game-tg06rcv7s
CANTERBURY

REGIONAL UMPIRES PANEL
With the 2019/2020 season rapidly approaching and the Blackcaps representing us at the 2019 ICC Cricket World Cup, Canterbury Cricket would like to congratulate the following umpires selected by Canterbury Regional Umpires and Scorers Association as the 2019/2020 Canterbury Regional Umpire's Panel. Once again, there has been consistent performances and hard work put into creating a great experience for the cricketers around Canterbury.
This season, Kim Cotton has represented Canterbury and New Zealand as a member of the ICC Development Panel, which saw her officiate in a couple of tournaments overseas and she will also continue as a member of the New Zealand Cricket Reserve Umpire's panel, along with Eugene Sanders. Tim Parlane and John Bromley are flying the flag for Canterbury on the New Zealand Cricket National Umpire's panel and will be plying their trade on the domestic season again. Special mention needs to be made, that when Tim Parlane gets appointed to his next first class match, it will be his 100th match in an illustrious career.
Lastly, a welcome back onto the panel for Jason Wood.
All the best for the upcoming season.