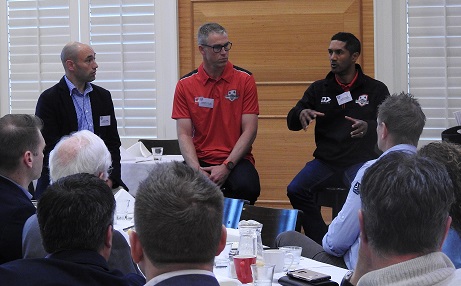 To welcome in the start of the 2019/20 cricket season, Canterbury Cricket hosted a 'coaches breakfast' for the Calder Stewart Business Club at the Grand Café, Christchurch Casino with over 40 guests in attendance.
This season we welcome new members; Ara Institute, Go Media, Calder Stewart, Lexus, Hazlett Insurance, Star Media and Research First.
The breakfast featured guest speakers Brendon Donkers (Canterbury Men's Head Coach) and Dion Ebrahim (Assistant Coach) who first gave insight into their cricketing backgrounds and how they've been managing the team over the past 12 months since the departure of Blackcaps head coach Gary Stead.
The coaches spoke about managing different personalities and the culture they're trying to create within the team. "We want the guys to understand that having a good culture and that having good relationships with one another on and off the field is a key to success".
Brendon touched on the 'Golden Shield Era' of Canterbury Rugby in the 80's and how Don Hayes (a name familiar to some) visited our current squad and spoke about what it meant to him to represent Canterbury at the time. "It was powerful stuff around culture, work ethic and respect".
The coaches discussed the season ahead and the planning that has been put into place over the pre-season. "A lot of learnings were made over the past year, and this has allowed us to do 100% more planning. We understand the players a lot better – what they want, how far we can push them and the conversations we can have".
The purpose of Business Club is to bring local businesses together so that they can meet, discuss ideas and make new connections.
Our next Business Club event is a lunch at Original Sin on December 4th.
Find out more about the Calder Stewart Business Club here.