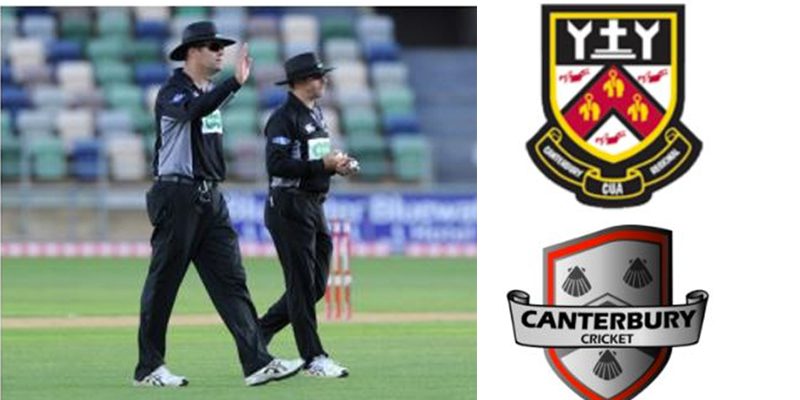 Become an

Umpire or Scorer

"Enjoy the game from the best seat in the house"

Have you always watched cricket from the boundary or on TV and made those crucial decisions, why not back that up by becoming an umpire or scorer and learning the "Laws of Cricket" or "How to score" Remember, a game of cricket cannot happen without the third team on the field.

So if you are interested, use the contact details below and make your first great decision this Summer.

Eugene Sanders – Match Officials Coordinator
esanders@canterburycricket.org.nz – 021 778051
Canterbury Cricket would like to congratulate the following on being selected, by Canterbury Regional Cricket Umpires and Scorers Association, as the Top 10 umpires in Canterbury for the 2017/2018 season. They showed consistency, enjoyment and had a good rapport with the players out in the middle during the season and this is rewarded with selection to this panel.
Canterbury, are fortunate to still have 4 members on New Zealand Cricket umpire panels, namely: Tim Parlane, John Bromley, Eugene Sanders and Kim Cotton. Special mention needs to be made to Anvesh Achanta and Gavin Fantastic on being selected for the first time on this panel and we look forward to seeing your progress. Finally, a welcome return to the panel for Darren Thomason.
Canterbury Regional

Umpires Panel
John Bromley
(NZC National Umpire)
Tim Parlane
(NZC National Umpire)
Kim Cotton
(NZC Reserve Umpire)
Eugene Sanders
(NZC Reserve Umpire)
Anvesh Achanta
Duncan Blackstock
Gavin Fantastic
David Henderson
Matthew Hill
Darren Thomason